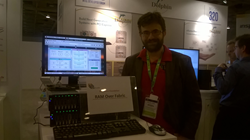 RAM over FABRIC, new memory architecture that opens up a new frontier for memory-hungry applications
San Francisco, CA IDF (PRWEB) August 17, 2016
A3Cube® today announced their new architecture "RAM over Fabric" and the availability of Fortissimo Foundation 2.6.
RAM over FABRIC (RoF) is effectively a new way of architecting memory in clusters.
"This new memory architecture opens up a new frontier for memory-hungry applications and provides unlimited memory resources to them," said Emilio Billi the CTO.
RAM over Fabric makes it possible to speed up the execution of application with a very large memory footprint, by leveraging the use of the memory available across the entire cluster without using any software virtualization or any software modification.
By avoiding any virtualization layer, this guarantees the the best performance to any application by removing the latency penalties introduced by the hyper-visors.
Fortissimo Foundation 2.6 includes new features like In-Memory compressed IO caching, preset DB Turbo IO (a single click to configure any SQL and NoSQL databases), advanced scratch disk configurator for high performance converged applications, preset optimized for Hadoop and fully optimized support for multi fabrics (Mellanox Infiniband, Intel OmniPath, and Dolphin eXpressWare).
About A3CUBE
A3Cube has solved the latency problem associated with software only solutions to scale out converged computing bringing to market the Exa-Converged infrastructure, the fastest solutions for big data, analytics and machine learning; reducing power consumption while extolling the maximum performance from the hardware.
A3Cube transforms your time, your data and your infrastructure in value.
A3Cube is a proud member of the Dell OEM Program. Our systems utilize best-in-class Dell hardware and include global service and support from Dell, an extra value-add that is designed to delight clients and achieve the highest customer satisfaction.
For more information visit our website:
http://www.a3cube-inc.com
Follow us:
LinkedIn: https://www.linkedin.com/company/a3cube-inc?trk=top_nav_home
Twitter: https://twitter.com/a3cubeInc
Facebook: https://www.facebook.com/A3Cube-Inc-388909857970971/?ref=hl