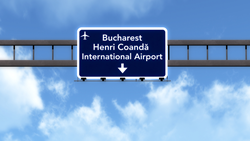 "We are absolutely delighted to be welcoming Daniel and Mihai and their team into the Green Motion family," said Chay Lowden, Green Motion's Sales Director
(PRWEB UK) 17 August 2016
Monday the 15th of August marked the opening of Green Motion's franchised car rental brand in the beautiful country of Romania.
Green Motion Romania has been awarded to experienced and highly competent car rental professionals, Mr Daniel Manea and Mr Mihai Chiriac.
Green Motion Romania's team have focused their attention on opening their first car rental location supporting Bucharest Otopeni Airport, also known as Henri Coandă International Airport, which is Romania's busiest international airport.
Chay Lowden, Green Motion's Sales Director said, "We are absolutely delighted to be welcoming Daniel and Mihai and their team into the Green Motion family. They have already demonstrated that they embrace Green Motion's environmental ethos and they are focused on providing their customers with the greenest and smoothest service possible, with an emphasis on customer service."
Green Motion Bucharest Otopeni Airport is now officially open and accepting vehicle rental bookings. For customer's placing a car hire booking with Green Motion Bucharest Airport, the team offer a meet and greet service. A Green Motion Romania representative will be waiting for you in the airport's Arrivals Hall's and will take you to your hire vehicle
To make a car rental booking with Green Motion Bucharest or to find out about opening a corporate account with Green Motion Romania, please contact Green Motion car hire directly at greenmotion.com or +44 (0) 2071864000.