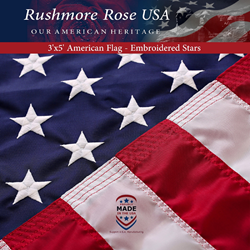 Available on Amazon.com at a new launch discount
HOUSTON, TEXAS (PRWEB) August 19, 2016
Rushmore Rose USA, a specialist US Flag company, announced today the launch of its newest American Flag product. The new flag is intended to celebrate American heritage, is 3x5ft and exclusively Made in the USA.
"This is the people's flag," said Charles Miller of Rushmore Rose USA. "Everyone should have one in gratitude for our freedom and our future as well as to honor the Veterans who fought in the name of this flag. Many of them paid the ultimate price."
Rushmore Rose USA envisions the flag as an essential part of any celebration of the great American dream. These include military homecomings, a new home, sporting excellence and continued wealth and prosperity for the United States and its citizens. "This is a Great Nation," Miller added. "We're proud to identify with what it represents for each and every one of us, in our own personal stories."
Rushmore Rose is proud to support US Manufacturing. The flag is made from nylon, with its stars embroidered in white thread. It is designed with durable brass grommets and quadruple stitching to ensure a long service life.
The flag is available online at the company website. Follow the flag on Facebook and Instagram at #whatsyourstory and #oldglorystory. The Flag is also available on Amazon.com at a new launch discount and comes with a one-year warranty.
For more information, visit http://www.rushmoreroseusa.com.
END
# # #