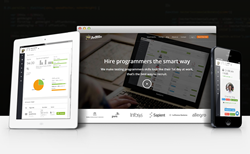 We believe that the right recruiting process brings competitive advantage in a lightning-fast growing demand for developers. Measuring developers' programming skills in the most natural way for them is one of the biggest gains you can get.
(PRWEB) August 23, 2016
DevSKiller.com proved its product market fit and now is aiming to accelerate expansion of its business globally to become one of the top solutions in the field of testing coding skills. It is changing the way programming skills are measured in recruiting process by giving developers real coding problems to solve in their natural programming environment which imitates 1st day at work experience.
If a company wants to recruit a journalist, they ask them to write an article. If they want to recruit a photographer, they ask them to take some photos, and if a company wants to recruit a programmer, they ask them to invert a binary tree on a white board instead of working on their code. It doesn't make sense, does it?
What's the point in asking only theoretical questions, verifying skills with choice questions or single-page coding tasks when what counts is how developers solve coding problems. Companies need to use real projects in certain programming languages with specific frameworks, libraries and databases for their recruiting process.
DevSKiller was born out of this frustration. The solutions available on the market were all testing book knowledge, which is good for hiring students, but there wasn't a tool for finding real problem solvers. And then they found a simple solution for that:
'If we want to recruit a programmer, we should imitate natural environment they work in and give them exactly the kind of tasks they will perform at work, just like their 1st day at work experience during recruitment.'
DevSKiller isn't reinventing the wheel. What it does is let programmers solve real coding problems their way, letting them use their tools to do it.
DevSKiller gives its users a lot of flexibility, so they can use tests created by experts or create their own programming tests from scratch, it's all up to the user. This way they can put a developer in their company's programming ecosystem and let the candidate solve programming problems that they are going to face once they get hired. No more closed book exams. No more academic questions. Just coding. Candidates like this kind of approach as this way they can show their skills in action, show how they solve real programming problems. That's why it boosts candidate experience.
DevSKiller is a recruitment tool that can be easily used by Tech Recruiters, even if they don't know how to code, as well as Developers to streamline the recruitment process.
To learn more about DevSKiller, visit https://devskiller.com/