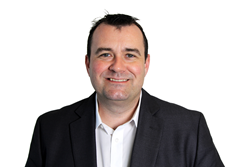 (PRWEB) August 17, 2016
Sandbox, one of the nation's leading independent full-service agencies, has hired seasoned marketing veteran Chad Smith to serve in the newly created position of SVP, strategic solutions.
In his new role, Smith will provide strategic and account leadership for the agency's healthcare, animal health and agriculture, and digital clients. He will be based in the agency's Kansas City office.
"Chad's long track record in account work, combined with his expertise in strategy and digital, will be a major asset to our growing list of clients," commented Joe Kuchta, chief client officer, describing Smith as the ideal candidate for this new role.
Smith returns to Sandbox after a four-year stint at Intouch Solutions, Overland Park, Kansas, where he served as VP, account service, overseeing an account team and spearheading digital marketing strategies for existing and new accounts. Before that, he was an account director at GA Communication Group (a founding partner of Sandbox), working on pharmaceutical and biotech accounts.
With nearly two decades of agency experience in account work, Smith has worked with companies across the entire healthcare spectrum, including pharmaceutical and biotech companies, medical device firms, hospitals, medical centers, health networks and payers. His has overseen marketing strategies, brand positioning and creative execution of a wide range of promotional efforts, supervising digital efforts, sales incentive programs, sales materials, medical method of action (MOA) videos, direct mail, journal advertising, social media engagement/monitoring and digital sales aid programs.
"This is a wonderful opportunity and an exciting new role in an exciting new agency concept," Smith said. "My goal is to ensure we're all working as closely as possible to help clients achieve their goals in the most engaging and efficient ways.
Smith received a Bachelor of Science in journalism/advertising from Southern Illinois University in Carbondale, Ill. He is currently vice president of sponsorship for the American Advertising Federation in Kansas City.
About Sandbox
Launched in 2016, Sandbox is a single independent, full-service agency formed by four complementary entrepreneurial agencies united by a "create better, together" ethos of collaboration. Headquartered in Chicago, Sandbox operates from seven locations across the U.S. and Canada. Its roster of clients includes some of the most respected names in human and animal healthcare, agriculture, biotechnology, financial services, travel, and consumer products. To learn more, visit sandboxww.com.