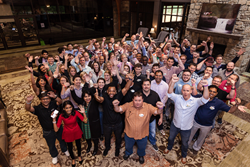 Fayetteville, AR; Tulsa, OK (PRWEB) August 18, 2016
capSpire, a global consulting and solutions firm with offices in the U.S. and Europe, today announced it has been ranked 1855 on the prestigious Inc. 500 | 5000 List by Inc. magazine. This is the fourth consecutive year that capSpire has received this honor.
The exclusive list represents a comprehensive look at one of the most important segments of the economy – America's independent entrepreneurs. The magazine publishes its annual Inc. 5000 list of the fastest-growing private companies each summer. Rankings are determined based on factors that include revenue and job growth.
"We are proud to have been named to the Inc. 5000 list for the fourth year running, alongside many of the country's most successful and innovative organizations. Our team and our clients drive our performance, and we sincerely appreciate all of their contributions," says capSpire CEO Lance Laubach. "We also thank Inc. magazine for this honor, as it validates the importance of our focus on finding meaningful solutions for our clients and attaining sustainable, long-term growth."
Since its inception in 2009, capSpire's exponential growth has propelled the company to become one of the energy industry's leading providers of smart, fresh solutions. The Inc. 5000 honor underscores the value of capSpire's comprehensive offering, which includes unmatched expertise in commodities trading and risk management, as well as with compliance, analytics and enterprise content management solutions. capSpire creates valuable business-process and technological solutions for Fortune 500 companies, and the firm's flagship product, Gravitate, is revolutionizing the way companies communicate with their clients.
"To be named once more to this exclusive list of successful companies is such an honor," say capSpire's co-founders Jeff Hardcastle and Mike Scharf. "Our growth and success continue to be testaments to our tremendously talented and energetic team, and to the relentless hard work and creativity they demonstrate on a daily basis to ensure that capSpire continues to reach beyond the status quo to find a better way."
The complete 2016 Inc. 5000 list can be found at http://www.inc.com/inc5000.
About capSpire
capSpire provides clients with deep business and system expertise to simplify and streamline their commodity-management functions for crude, natural gas, refined products, NGLs, coal, iron ore, agriculture and freight. Our suite of services includes IT strategy and planning, system selection, custom software development, implementation services, systems integration and ongoing support. For more information, visit http://www.capspire.com.