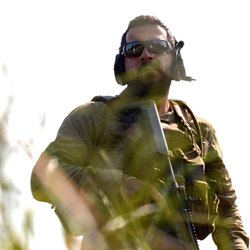 Having an instructor of Daniel's caliber will allow us to offer world class training to Law Enforcement and to responsible armed citizens.
Charlotte, NC (PRWEB) August 19, 2016
Point Blank Range, LLC is pleased to announce that elite firearms instructor Daniel Shaw will join the management team as the Director of Training for the Point Blank Range Firearms Training Academy.
Daniel Shaw is a top tier firearms trainer in the United States. Eddie Moore, General Manager of Point Blank Range Charlotte states, "Having an instructor of Daniel's caliber join the team at Point Blank Range will allow us to offer world class training to law enforcement and to responsible armed citizens throughout the Carolinas, and have a tremendous impact on the safety of our community."
Daniel Shaw is a retired U.S. Marine Infantry Unit Leader with multiple combat tours and instructor titles. He has developed curricula and training standards for pre-deployment training and Marine Security Forces such as the Fleet Anti-terrorism Security Teams (FAST) and the Naval Nuclear Security Program. His direct action experience includes Level IV VBSS and In Extremis Hostage Rescue. Daniel has been a DOD/USMC firearms instructor for over 16 years. Since retirement from the Marine Corps, Daniel has gained over four years of experience teaching armed citizens, Law Enforcement Officers, and Active Duty Military. He holds numerous instructor certifications from the U.S. Marine Corps to include foreign weapons and master instructor of handgun, rifle/carbine, shotgun, and medium to heavy machine guns.
Shaw draws upon extensive training and combat experience to develop training courses to help Law Enforcement, U.S. Military, and responsible armed citizens prepare for a deadly force encounter. He recently spent a week in Maryland training U.S. Marines assigned to Presidential Guard Duty.
Dedicated to American ideals, personal safety, and family values, Point Blank Range is committed to providing the Charlotte, NC region with an unparalleled shooting sports experience at two state-of-the-art facilities. A licensed "Class 3" firearms dealer, Point Blank Range stocks an impressive collection of the most sought-after hand guns, modern sporting rifles, and personal defense shotguns, as well as ammunition, optics, and other accessories. Point Blank Range is the home of Patriot Gun Club and Shooting After Dark™ - an exclusive after-hours access program for Club members - and the Point Blank Range Training Academy offering Charlotte's premier firearms training programs. For more information or to register for classes, please visit http://www.pointblankrange.com/, or contact Eddie Moore at (704) 899-5898, or emoore(at)pointblankrange(dot)com.