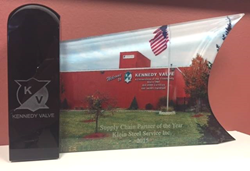 Klein Steel's Supply Chain Management services is a strength of Klein Steel and an area of continued focus for us as our Strategic Partners grow.
Rochester, NY (PRWEB) August 18, 2016
Klein Steel Service (http://www.kleinsteel.com) today announced that it has been recognized for exceptional performance as a Supply Chain Partner in its interactions with Kennedy Valve, a division of McWane, Inc. The selection was based on Klein Steel's ability to present the highest value with regards to quality of product, delivery performance, overall competitiveness and responsiveness.
"I'm proud and thankful for our team members - and for our extraordinary customers such as Kennedy Valve who have been loyal and rewarded us with business. I firmly believe that the fundamental strength of Klein Steel is the commitment, dedication, talent and loyalty we receive from our team members, our partners and our customers such as Kennedy Valve," said Todd Zyra, President and CEO. "Being named a Supply Chain Partner of the Year by Kennedy Valve is a direct result of our continuing investments, our commitment and our strong belief in our direction to support our customers with exceptional value."
Zyra added, "Klein Steel's Supply Chain Management services is a strength of Klein Steel and an area of continued focus for us as our Strategic Partners grow—along with their increased reliance on us to manage effectively their complex needs. And to always improve and enhance our commitment to customers."
Customers call upon Klein Steel to manage their supply chain so they don't have to qualify vendors; they trust Klein Steel's existing relationships and its ability to manage them successfully. Klein Steel has documented procedures in place to evaluate and qualify vendors based on quality, sustainability, repeatability, traceability, flexibility, integrity and price. Klein Steel also holds and manages inventory when needed. Klein Steel consolidates all of these efforts under a single process which provides supply chain management control for its customers.
About Kennedy Valve
Established in NYC in 1877 and moved to Elmira, NY in 1907. Kennedy was acquired by McWane from ITT Grinnell in 1988. Kennedy is a nationally recognized producer of AWWA Resilient Seat Gate Valves, Fire Hydrants, and Check Valves, for municipal water distribution systems and water and wastewater treatment facilities and a variety of ULFM Fire Protection products as well as providing AWWA Butterfly Valves and Plugs Valves manufactured by sister companies Clow and M&H. Kennedy sells primarily through established Waterworks and Fire Protection Distributors in all 50 states. As well as AWWA and ULFM standards, our products comply with all applicable requirements of ASTM, NSF, USC, ANSI, NFPA, and MSS.
About Klein Steel Service [http://www.kleinsteel.com
Founded in 1971, Klein Steel Service Inc., a premier metals supplier and processing center, is the recognized industry leader in the Northeast and one of a few NQA-1 compliant metal service centers nationwide. With a 45-year track record for quality, innovation, performance and customer service, Klein Steel has grown to a 300,000 sq. ft. footprint that supports reliable delivery to customers in NY, PA, MA, VT and CT.
Klein Steel provides world-class JIT inventory and supply management solutions with over 3,500 line items of carbon, stainless steel, aluminum and specialty metals. Klein Steel also offers a full range of value-added processing services from high speed mill and drill to oxy and plasma, as well as component manufacturing and kitting for commercial applications as well as nuclear commercial-grade dedication materials.
Klein Steel is acknowledged as an industry leader having been named the 2015 winner of the Platt's Global Metal Distributor of the Year award, a finalist in 2014, 2015 and 2016 for the Service Center of the Year award from American Metal Market (AMM), a finalist in 2016 for the Advocate of the Year award from AMM, a 2016 finalist for the Most Valuable Employer For Military by CivilianJobs, a 2015 winner of a Rochester Top Workplaces award, a 2015 Rochester Top 100 company, a 2012 recipient of the Rochester Business Ethics Award, and winner of the Industry Week Best Plants award in 2011.