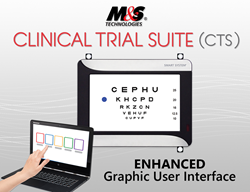 CTS with Enhanced GUI can take the investigator directly to the vision tests.
Niles, IL (PRWEB) September 29, 2016
M&S Technologies, the first name in computerized vision testing systems, is pleased to announce the launch of the Clinical Trail Suite (CTS) Version 2 with Enhanced Graphic User Interface (GUI). CTS Version 2 is now even easier and more efficient for use at clinical trial sites with quick and immediate access to any specific test within CTS.
The new enhanced GUI allows the investigator to immediately switch to an "unscheduled" test at any time during a clinical trial. This enables the primary investigator to address specific vision issues and findings discovered during the course of a clinical trial. Additionally, CTS can be customized specifically to meet the sponsors' trial needs, and comes with a variety of hardware options.
CTS consists of a variety of visual acuity and contrast sensitivity software modules that easily step the user through the eye charts presented and directly respond to user input regarding correct/incorrect results.
The CTS protocols adhere strictly to the ANSI and ISO standards, are accepted for use in Phase III Endpoint Trials and are peer-reviewed and published by prominent industry professionals. The science behind CTS ensures a high level of precision and repeatability from site to site and visit to visit for reliable results.
More details about CTS can be viewed online HERE or watch this VIDEO.
"Unanticipated findings and results are often discovered during the course of a clinical trial. In these situations, it is extremely valuable to the primary investigator to obtain further information about what vision issues the patient is experiencing. Our CTS Version 2 with Enhanced GUI can take the investigator directly to the vision tests that will provide answers to those questions."
Joe Marino, President
About M&S Technologies:
Founded in 1990, M&S Technologies is a software company specializing in visual testing systems and dedicated to developing the very best products for eye-care professionals, optometry schools and universities, and products used in clinical trials. To date, over 26,000 systems are in use across 39 countries with a growing network that includes 25 distributors and several strategic industry alliances. Superior service, industry-leading technology and products that define the cutting edge have been the hallmarks of M&S for over 25 years.
For more information, please contact:
Karen Waller
M&S Technologies, Inc.
847-763-0500
kwaller(at)mstech-eyes(dot)com