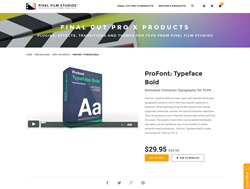 ProFont Typeface Bold comes with 90 plus presets that automatically write itself into a scene allowing users to be more creative with their text
Aliso Viejo, California (PRWEB) August 21, 2016
"ProFont Typeface Bold comes with 90 plus presets that automatically write itself into a scene allowing users to be more creative with their text," said Christina Austin - CEO of Pixel Film Studios.
ProFont Typeface Bold gives users 97 presets from a variety of categories. Every letter in upper and lowercase, numbers 0 through 9 and an onslaught of special characters are all available to use in Final Cut Pro X. ProFont Typeface Bold lets users create beautiful and universal text animations like never before.
ProFont Typeface Bold includes an intuitive set of controls giving users all the tools they need without any extra complications. Placement controls, color changes and animation controls are all that is necessary to create beautiful typographic animations. The included on-screen controls allow users to more effortlessly position, scale and rotate characters within the scene.
The speed of animation can be controlled using ProFont Typeface Bold's Intro and Outro Speed sliders. By default, characters are set to animate in from the start and out at the end of the preset. The included switches give users the ability to turn off the animation from the start or at the end separately. Altering the speed of animations is simple; just drag the slider control and move it anywhere from 0 to 100.
ProFont Typeface Bold's Compound Tool is designed so that users can easily reposition all the characters in a group at once. Using the Compound Tool is easy, first create a compound clip with all characters that are to be effected. Then, apply the Compound Tool Effect to the Compound Clip by dragging and dropping it onto the clip. This tool allows users to change the position, scale and rotations, depth of field and more of all included characters at the same time.
The Grid Tool can be added to scenes as either a title or an effect so users can apply it to individual clips, or place it above many clips in the timeline. This extremely helpful tool makes it easy to align text effectively to a grid so that characters are spaced and positioned correctly within the scene. Controls like grid color, size, and opacity can be altered and grid lines can be offset to meet the needs of any shot.
Users who also purchase the original ProFont Typeface will have the ability to create even more beautiful animating typographic layouts by combining and contrasting Bold and Regular style fonts. Add emphasis to key words by using the Bold Typeface selectively. Using plugins from the ProFont Typeface family makes possibilities endless in FCPX.
Established in 2006, Aliso Viejo, California-based Pixel Film Studios is an innovative developer of visual effects tools for the post-production and broadcast community. Their products are integrated with popular non-linear editing and compositing products from Apple FCPX. Apple, the Apple logo, Mac OS X, and Macintosh are registered trademarks of Apple Inc. in the U.S. and/or other countries. All other trademarks and trade names are the property of their respective owners.