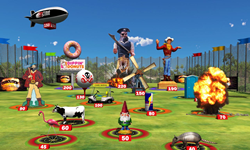 The response to our Demolition Driving Range has been absolutely crazy. Golf pros were telling us "I need this game on my simulator and in my facility!"
Centerville, UT (PRWEB) August 18, 2016
TruGolf will debut its new software streaming service, E6 Cloud, beginning October 1st 2016. Subscribers will immediately have access to the highly anticipated Demolition Driving Range, a free download of Kuala Lumpur, and more offerings delivered throughout the year.
For more information visit: https://trugolf.com
E6Golf is known for being the industry standard for golf simulation software. Unparalleled in accuracy, beauty, and its list of 87 world-class courses, E6Golf can be found in teaching studios, academies, and residential golf simulators around the world. Now, E6 Cloud will provide games and non-traditional elements designed for younger golfers. Anyone with an indoor golf simulator, commercial or residential, currently using E6, will have access to driving range games that are growing in popularity throughout the US. E6 Cloud is a cost-effective way to radically transform any indoor golf facility.
"The response to our Demolition Driving Range has been absolutely crazy," said Aaron Conners, TruGolf's Creative Director. "When we premiered it at the PGA Show, it was far and away the biggest attraction. Everyone from kids to golf pros were telling us: 'I need this game on my simulator and in my facility!' " Since its debut, TruGolf has expanded its quick-play game offerings, and coupled them with Skills Challenges, and new modes of play that will be made available throughout 2017.
E6Golf is compatible with a number of existing launch monitors, radar units, and golf simulators. For a full list of compatible hardware or information about E6 Cloud and its offerings, visit: https://trugolf.com/e6/e6-cloud/
Demolition Driving Range: Take aim at a driving range full of exciting targets that explode when you hit them! Earn enough points with your first five shots to unlock the Ring of Fire and one shot to hit it through and earn 1000 bonus points! Demolition Driving Range is the most fun you'll ever have playing golf and perfect for playing alone, head-to-head or with a big group of friends.
Course Download of Kuala Lumpur: Considered to be the best course in Malaysia, Kuala Lumpur regularly hosts PGA and LPGA events. Those familiar with the course will recognize its intricate layout, beautiful surroundings, and risk-reward holes.
Calendar:
October 1: Demolition Driving Range
October 1: New Course: Kuala Lumpur
November 1: Junior Challenge Course
December 1: Carnival Shooting Gallery
January 1: Golf-pocalypse
January 1: New Course: Sanctuary
February 1: Skills Shot Challenge
March 1: Sports Arcade Challenge
April 1: New Course: Yellowstone Country Club
Hardware and software purchases will be discounted 10%. Users must own E6Golf to be eligible for subscription. The program will be offered for free until September 30th 2017. E6 is compatible with a number of hardware providers – for a full list of compatibility, please visit: https://trugolf.com
About TruGolf:
TruGolf, originally a subsidiary of Access Software, formally spun-off from the company in 1999 when Access Software was purchased by Microsoft for their expertise in multi-award-winning golf software development. Since then, we've continued to refine the software and the technology, designing the industry standard and #1 selling golf simulator software used in the most golf simulators around the globe.