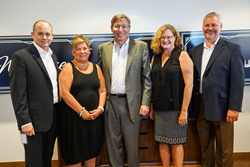 ANCHORAGE (PRWEB) August 17, 2016
GCI Business, a unit of GCI, announced today that it has launched an initiative to expand the services it offers to business customers in the Pacific Northwest and Texas. As part of this initiative, GCI Business, earlier this month, opened a new Pacific Northwest headquarters office at 901 Fifth Avenue in Seattle that doubles its footprint in the region and provides room for growth.
"GCI Business has served business customers in the Pacific Northwest and Texas for many years. Our customers there and in Alaska are facing new challenges and opportunities as communications and IT technology and service delivery models evolve," said Martin Cary, senior vice president and general manager of GCI Business. "This evolution opens the door to efficiency and effectiveness gains, but the transition to the new can be difficult and complex."
"GCI Business has a proven record of guiding its customers through this kind of transition, providing practical solutions to communications, technology, and managed service needs," Cary continued. "We provide a broad portfolio of services, including professional services, managed services such as managed Wi-Fi, managed video conferencing, and managed firewall, 24/7 monitoring, and much more, all delivered with high-touch customer service. We look forward to providing our solutions to customers throughout rapidly growing markets of the Pacific Northwest and Texas."
About GCI Business
GCI Business provides communications, technology and managed services solutions to commercial, healthcare, education, energy, government, and carrier customers throughout Alaska, the Pacific Northwest, and Texas. GCI Business operates offices throughout Alaska and the Pacific Northwest as well as Houston and Denver.
About GCI
Headquartered in Anchorage, Alaska, GCI (General Communication Inc.) is a publicly traded provider of integrated communications services to consumer and business customers. With 2015 revenues of $979 million and EBITDA of $330 million, GCI delivers innovative solutions under challenging conditions to some of the most remote communities in the world. Learn more about GCI at http://www.gci.com