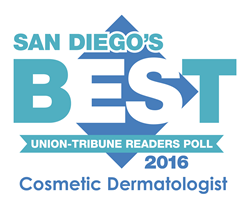 La Jolla, CA (PRWEB) August 22, 2016
Coastal Medical & Cosmetic Dermatology, award winning offices of Board Certified Dermatologist Dr. Darrell Gonzales. Dr. Gonzales, recognized as the 2016 Best Cosmetic Dermatologist in San Diego by the SD Union Tribune, is now offering SculpSure, a breakthrough treatment for the reduction of stubborn fat in problem areas such as the abdomen or love handles, helping patients achieve a slimmer appearance without surgery or downtime.
FDA cleared and clinically tested, SculpSure is a safe and effective lightbased treatment that precisely targets fat cells under the skin, permanently destroying up to 24%* of treated fat in a 25 minute procedure. Over time, these damaged fat cells are naturally absorbed and removed from the body, with results seen as quickly as six weeks, and optimal results typically seen at 12 weeks. Since there is no recovery time with SculpSure, patients can return to normal activities immediately. SculpSure is also comfortable and well-tolerated, with most patients feeling nothing more than a warming sensation.
Over 85% of women and 72% percent of men in the United States are unhappy with their physical appearance, with 69% of women and 52% men indicating the appearance of their stomach is a source of anxiety**. So it's not surprising that nonsurgical fat reduction procedures are one of the fastest growing categories in the aesthetics market, with a 42% increase in procedures performed from 2013 to 2014.***
"Even with diet and exercise, most people have areas of stubborn fat that seem impossible to get rid of," states Dermatologist, Dr. Darrell Gonzales "SculpSure can help patients of all skin types achieve the results they are looking for with a non-invasive treatment that fits into their busy lifestyles."
ABOUT SAN DIEGO'S BEST AWARDS
San Diegans share their "best" picks in the annual San Diego's Best U-T Readers Poll. In 2016, San Diego Union Tribune asked readers to nominate the best in multiple categories – from Best Brunch to Best Beach, from Best Movie Theatre to Best Museum, from Best Camera Store to Best Dermatologist, and nearly everything in between.
Like any election, the results represent the total votes received. Businesses that came out on top, received the majority of vote in that category and were deemed the winner to be the "best" based on individual voter personal experience with each business.
Contact us today to learn more about your customized SculpSure treatment Coastal Medical & Cosmetic Dermatology at 858-657- 0267.
Coastal Medical and Cosmetic Dermatology (CMCD) is a premier medical, surgical, and cosmetic dermatology clinic, located in La Jolla, Eastlake, and Chula Vista, CA, founded by Darrell W. Gonzales, MD. The practice is anchored on Dr. Gonzales's desire to personally provide a superior patient experience in an environment that aligns with his standards of integrity, commitment to patient care, and compassion. http://www.coastaldermonline.com/

Single treatment with an average in fat volume as measured by MRI; Clinical and Histological Evaluations of a 1060nm Laser Device for Non-Invasive Fat Reduction, John W. Decorato, MD., F A C S. Rafael Sierra, Ph.D., Bo Chen, Ph.D., Westford, MA, 2014
** TODAY/AOL 'Ideal to Real' Body Image Survey Results." AOL.com. 1 Feb. 2014.
*** American Society for Aesthetic Plastic Surgery