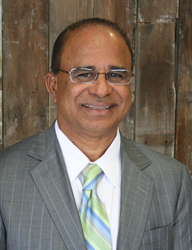 We are redesigning the Specialty Pharmacy around the Patient Experience. RXPX is changing healthcare.
Kansas City, MO (PRWEB) August 17, 2016
Heritage Biologics is proud to announce that Zack Varughese has joined the executive leadership team as the Chief Strategy Officer (CSO). As the CSO, Dr. Varughese will oversee growth strategies of the company and provide direction and support to various business development initiatives.
Prior to his appointment at Heritage Biologics, Dr. Varughese was Senior Vice President of Oncology Services at Cancer Treatment Centers of America (CTCA) at Southwestern Regional Medical Center in Tulsa, Oklahoma. During his tenure at CTCA, Dr. Varughese had oversight over the operations of the physician corporation, graduate medical education (GME), outpatient clinics, and complimentary medicine departments. He also oversaw many of the hospital's revenue departments, such as stem cell transplantation and cellular therapies, radiation oncology, radiology, laboratories, and pharmacies.
Dr. Varughese was with CTCA for nearly 10 years. Under his leadership, the hospital has expanded by bringing on new specialists and innovative technologies like Intraoperative Radiation Therapy, Robotic Surgery, and Stem Cell Transplant and Cellular therapies. Another innovation was implementing the Patient Empowered Care® model and the Quality of Life Center. Dr. Varughese was also instrumental in developing fellowship programs in plastic surgery, gastroenterology, pain management, and pulmonary care in partnership with Oklahoma State University Medical Center, and the Medical Oncology Fellowship program at Southwestern/CTCA, which made CTCA Tulsa the first teaching hospital in the CTCA Enterprise. In addition, Dr. Varughese led the development and implementation of Brightwell Health, CTCA's own specialty pharmacy in Tulsa, Oklahoma, to deliver specialty medications to CTCA's cancer patients
Prior to his appointment at CTCA, Dr. Varughese worked as Executive Director of Cancer Care Associates, a former US Oncology physician practice, and managed US Oncology's operations in the state of Oklahoma. Prior to his role as Executive Director of USON's operations in Oklahoma, he was USON's (formerly American Oncology Resources) national director for lab and diagnostic divisions.
Dr. Varughese earned a Ph.D. degree in Business administration from Oklahoma State University, (OSU), Oklahoma, a Master of Science degree in management from Southern Nazarene University in Oklahoma City, Oklahoma, and a Master of Science degree in botany from the University of Kerala, India. Dr. Varughese is also an American Society of Clinical Pathologists (ASCP) board-certified medical technologist and an ASCP board-certified Diplomate in Laboratory Management (DLM).
In his spare time, Dr. Varughese gives back by volunteering overseas to help provide underprivileged children with basic food, education, shelter, and medical care.
About Heritage Biologics
Heritage Biologics is a leading Specialty and Home Infusion Pharmacy focused on redesigning the traditional pharmacy service model. By creating the first formal Pharmacy Patient Experience (RXPX) program in the nation, Heritage has defined the new standard for rare care. This important collaborative program aims to advance the traditional hospital Patient Experience (PX) program into the outpatient pharmacy setting. Specialty Pharmacies play an integral role in the overall healthcare model. The pharmacy is the link between the healthcare provider and the patient. As the healthcare market evolves, continuity of care will become increasingly critical across the healthcare spectrum. Transitioning patients to outpatient care will be a key driver, and monitoring that part of the puzzle is becoming a priority for all stakeholders. Heritage Biologics is changing healthcare!
For more information, please visit http://www.HeritageBiologics.com, or contact us at rarecare(at)heritagebiologics.com or (855) WE-R-RARE.