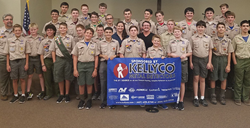 The impact and excitement was great. I am sure we have some budding treasure hunters!
Winter Springs, FL (PRWEB) August 22, 2016
Kellyco Metal Detectors, an online and in-store retailer of metal detectors and metal detecting accessories, is pleased to announce that Boy Scout Troop #475 from the Anclote District, part of the Greater Tampa Bay Area Council, was drawn as the winner of a Troop Leader contest sponsored by Kellyco during the 2016 Summer Camp at the Central Florida Council of the Boy Scouts of America Camp La-No-Che located in Paisley, Florida. For the past two years Kellyco has sponsored a seeded treasure hunt at the Nationally Accredited Camp where they teach Boy Scout troops attending from all over the country about the hobby of metal detecting. Staffed with over 40 volunteers from the Central Florida Metal Detecting Club, Kellyco ushered in hundreds of boy scouts to their pirate themed treasure hunt each week during the seven week camp, and taught them the basics of using a metal detector and identifying underground targets. Each Boy Scout walked away from the hunt with a basic understanding of the hobby, the technology behind the equipment, as well as some sort of treasure find that they could take home or trade with their peers. In addition to the seeded treasure hunt, Kellyco also facilitated a class on archaeology to help teach the boys the importance of preserving history and act as a knowledge resource to assist in acquiring the Archaeology Merit Badge.
The prize package was presented to Harry Betz, District Chairman and Leader of Boy Scout Troop #475 at their weekly meeting earlier this month. The prize package included six Garrett Ace 300 metal detectors and six treasure hunting accessory kits which came complete with items such as a Kellyco trailblazer carry bag, digger, gloves, magnifying glass, headphones and a Kellyco Metal Detectors patch. Total value of the entire prize package was $3,696.30.
Kellyco hosts a seeded treasure hunt for the Cub Scouts during the Camp La-No-Che Halloween Weekends as well, and will do so again each weekend starting this October. Kellyco is excited to announce that with the support of Garrett Metal Detectors, they will be hosting YouTube celebrity Nugget Noggin during the hunt on October 22, 2016. Nugget Noggin is a widely popular treasure hunter and will be teaching the Cub Scouts about the hobby and introducing them to Garrett's new line-up of metal detectors, the Ace 200, Ace 300 and Ace 400.
About Kellyco Metal Detectors:
Kellyco Metal Detectors started in 1955 after Stu Auerbach began selling surplus army metal detectors out of his car in Miami Beach. Stu grew his business over the years to include a catalog in 1969 and a full retail establishment along with a treasure museum in 1989. Since 2000, Kellyco has been the recipient of multiple awards for customer service and is now the world's largest supplier of direct-to-customer metal detectors. On August 1, 2015, Kellyco celebrated their 60th anniversary along with a grand re-opening of their newly remodeled showroom.
About Garrett Metal Detectors:
An industry leader in the world of hobby and security metal detectors as well as treasure hunting accessories. Founded in 1964 by the late Charles Garrett, they are dedicated to making the best metal detectors and continue to provide their customers better products with leading edge technology. Their all-terrain hobby metal detector, the Garrett AT Pro, is one of their most popular machines and can be seen featured on the hit TV show "Diggers" as well as various prominent YouTube channels such as Nugget Noggin. All of their machines are high performing and designed to get you out in the field and finding treasure.
About Nugget Noggin:
Nugget Noggin is a twenty-something YouTube Celebrity with over 200,000 YouTube subscribers and nearly 35 million views. Nugget Noggin takes his viewers along on his metal detecting adventures and shows them what he has found. Garrett Metal Detectors is the current sponsor of his weekly adventures on YouTube.
About Boy Scout Troop #475:
Boy Scout Troop #475 is lead by Harry Betz in the Anclote District of the Greater Tampa Bay Area Council. As one of the larger troops in the area, Boy Scout Troop #475 has 45 plus boys among their ranks and a Cub Scout Pack of 120 plus boys ranging from 1st to 4th grades.