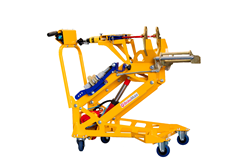 As part of our commitment to the trucking industry, the BrakeMate™ will reduce maintenance time
Orlando, FL (PRWEB) August 19, 2016
Vehicle Inspection Systems, the front runner for heavy duty vehicle, truck and bus safety in the trucking and transportation industry for more than 20 years, is pleased to introduce the BrakeMate™, a device designed to service heavy vehicle brake assemblies and reduce manual lifting.
Vehicle Inspection Systems is the exclusive distributor of the BrakeMate™, which is manufactured by the Tulip Corporation, a company engineering products for more than 75 years. Vehicle Inspection Systems will be showcasing the BrakeMate™ at upcoming trade shows including the Great American Trucking Show and WASTECON.
The BrakeMate™ reduces manual lifting and risk of injury during the disc brake maintenance process. Designed with bus, truck and trailer maintenance in mind, the average time to replace the rotor is cut in half from 2 hours to 1. The unit keeps all parts aligned when splitting a rotor or hub, and the 66 lb. rotor is simple to handle with the rotating service table.
"As part of our commitment to the trucking industry, the BrakeMate™ will reduce maintenance time," Mark Keegans, Vice President of VIS, said. "This drastically reduces heavy lifting, which will result in less potential for injury and free up a mechanic's time. Our mission has always been to make dangerous and difficult repair tasks easier and more automated. BrakeMate™ does exactly that!"
When you are finished with the BrakeMate™, the final assembly back on to your truck is safe and efficient with the unit's hydraulic lift control. A drum brake adapter option is available.
For more information regarding the BrakeMate™, visit our website at http://www.vischeck.net or call us at 866-847-8721.