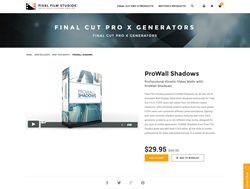 With 20 different layout variations that are fully customizable ProWall Shadows is the perfect tool to create a professional 3D video wall presentations in a matter of seconds
Aliso Viejo, California (PRWEB) August 22, 2016
"With 20 different layout variations that are fully customizable ProWall Shadows is the perfect tool to create a professional 3D video wall presentations in a matter of seconds," said Christina Austin - CEO of Pixel Film Studios.
ProWall Shadows comes with 20 different presets for FCPX users to choose from. Each preset is completely customizable, with up to 10 individual drop zones that can be placed anywhere and scaled to any size. Creating new media layouts has never been easier.
ProWall Shadows includes multiple drop zones and color selections for the user to modify, creating different and unique moods. Master Drop Zone controls are also included for the application of different wall textures, for more realism and added atmosphere.
ProWall Shadows has all the familiar controls any User could want, and more. ProWall Shadows introduces full-shadow and lighting settings, along with the addition of selectable kinetic intro and exit animations. Fully-Editbale Text and Wall color controls are also included, giving FCPX users the ultimate toolset for creating professional presentations.
Designed exclusively for Final Cut Pro X, users can simply import a video or image into the generator, and then adjust the placement and camera settings. Editors can instantly give a video wall the style it needs with just a few clicks of a mouse. Designed for Final Cut Pro X Version 10.2.1 and newer.
Established in 2006, Aliso Viejo, California-based Pixel Film Studios is an innovative developer of visual effects tools for the post-production and broadcast community. Their products are integrated with popular non-linear editing and compositing products from Apple FCPX. Apple, the Apple logo, Mac OS X, and Macintosh are registered trademarks of Apple Inc. in the U.S. and/or other countries. All other trademarks and trade names are the property of their respective owners.