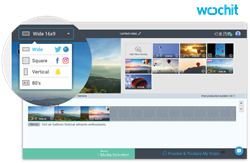 We've built our social optimization toolset to support these companies so they can fast forward their video strategy with no additional resources while also providing a great viewing experience for consumers
New York (PRWEB) August 18, 2016
As media companies are increasingly challenged to deliver video to audiences across a variety of social platforms, video creation platform Wochit announced today the addition of social-video optimization to the platform's cloud-based content production tools. The platform upgrade will enable media companies to quickly generate and distribute social video that is specifically optimized for popular channels including Facebook, Instagram, Snapchat, Twitter and YouTube.
According to a new survey by AOL, publishers expect video to be their top source of revenue this year, citing mobile-first video as a major opportunity in the space. With nearly half of video viewers watching in-app on mobile devices, publishers who are able to easily modify videos for each platform's preferred format, including square and vertical videos, will gain a significant advantage.
With Wochit's platform and the new video optimization tools, media companies and other content creators will benefit from:

Instant adjustment of video aspect ratio for maximal exposure in Facebook, Snapchat, Twitter, Instagram, and YouTube
Support for vertical video as well as wide, traditional and square formats
Automatic fitting of text overlays
Smart centering and cropping
One-click native upload to social platforms  
"Nine out of ten publishers are noting the 'positive effect' of off-platform distributed media, with more than half deeming it 'extremely positive,'" stated Wochit Co-Founder and CEO Dror Ginzberg. "We've built our social video optimization toolset to support these companies so they can fast forward their video strategy with no additional resources while also providing a great viewing experience for consumers."
About Wochit
Wochit is a video creation platform that empowers newsrooms, media companies and brands to expand audience engagement through the power of social video. Worldwide media brands such as Time Inc., Daily News, USA Today, Gannett, AOL, The Week, ProSieben, Die Welt and Der Spiegel use Wochit to produce short-form videos around trending topics at the scale and speed required in the video-first, mobile era. With rights-cleared assets from AP, Reuters, Getty, Bloomberg and others, cloud-based editing tools and native uploads, horizontal and vertical videos are quickly created and distributed across all social and digital platforms. Wochit is the winner of both the Gutenberg Prize for its disruptive technology in the field of journalism and Digiday's Best Video Technology Innovation for its significant impact on publishers' bottom line. The Company is backed by Cedar Fund, Greycroft Partners, Marker LLC and Redpoint Ventures. Wochit is based in New York, with offices in London and Tel Aviv. Find out more at http://www.wochit.com.