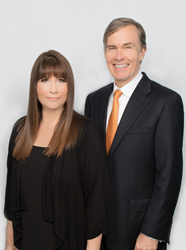 La Jolla, California (PRWEB) August 21, 2016
La Jolla Skin (http://www.lajollaskin.com), a cosmetic dermatology and plastic surgery practice, was recently ranked by Expertise.com as one of San Diego's Top 20 practices, based on a rigorous evaluation that included a review of its service and patient satisfaction.
"We appreciate that Expertise.com recognized La Jolla Skin, and we believe it's a testament to the dedication to patient care demonstrated daily by our entire team," says Dr. Susan Stuart, who has been serving San Diego residents as a board-certified dermatologist for more than 20 years.
Dr. Stuart and her counterpart, Dr. Richard Chaffoo, one of the few triple board-certified plastic surgeons in the country, form the only plastic surgeon-dermatologist duo in San Diego County. The husband-and-wife team's expertise consistently garners attention, as do the advanced aesthetic treatments they provide to their patients.
"Our unique practice provides patients the opportunity to address both their aesthetic and skin care needs under one roof," Dr. Chaffoo says. "This comprehensive approach to cosmetic enhancement includes innovative treatments such as advanced laser procedures and CoolSculpting® for fat reduction."
The San Diego County practice earned the honor after Expertise.com evaluated 286 dermatology practices in San Diego according to 6 criteria: reputation, credibility, experience, availability, professionalism, and engagement. It hand-picked the top practices after carefully reviewing the results of its evaluation.
Dermatologists included in the top 20 demonstrated that they are "masters of their craft, based on years of practical experience and education," Expertise says. Additionally, named dermatologists have "a history of delighted customers as a signal of outstanding service."
Dr. Stuart says it's important that patients choose a board-certified dermatologist, even for nonsurgical treatments such as BOTOX® injections that are offered by many types of providers.
"Getting consistently excellent results requires the training and experience that only board-certified dermatologists can offer," she says. "We understand the precision needed for successful treatments, and after all, patients deserve the best."
###
La Jolla Skin (http://www.lajollaskin.com) is a comprehensive aesthetic practice offering cosmetic surgery and dermatology, as well as hair transplant treatments. Dr. Richard Chaffoo is a triple board-certified plastic surgeon and a leader in hair transplantation methods in addition to offering patients in La Jolla breast augmentation, facial rejuvenation, and body contouring procedures. His background includes postgraduate fellowships at Stanford University and at the UCSD Medical Center Regional Burn Center. Dr. Susan M. Stuart is a board-certified cosmetic dermatologist offering laser skin care, skin cancer therapies, laser hair removal, and other skin rejuvenating procedures alongside her husband, Dr. Chaffoo. After receiving her MD from Tulane University School of Medicine, Dr. Stuart completed a competitive internship at Mercy Hospital Center in San Diego followed by a residency at Emory University School of Medicine and a postgraduate fellowship in dermatology at Stanford University School of Medicine. She is also the past president of the San Diego Dermatological Society and past chief of dermatology at Scripps Memorial Hospital in La Jolla. Their practice is located within the Ximed Medical Building, a landmark private practice building on the Scripps Memorial Hospital campus.