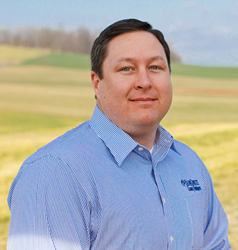 Farm Credit of the Virginias has a strong past and an even stronger future, and I look forward to leading our outstanding and dedicated team in continuing our 100-year legacy of support for agriculture and the rural communities we serve
(PRWEB) August 18, 2016
Farm Credit of the Virginias (FCV), a $1.8 billion dollar cooperative financial institution serving agriculture and rural communities, today announced that Peery Heldreth has been named as its new Chief Executive Officer effective January 5, 2017.
Heldreth currently leads the organization's operations, lending, technology and compliance functions with responsibility for overseeing many of the bank's 22 branch offices. He will succeed retiring CEO Dave Lawrence after a four-month transition period. Staunton, VA will remain the organization's headquarters.
"The board carefully considered several extremely qualified candidates for this position, and ultimately selected Peery due to his outstanding leadership, effective communication skills and diverse experience that will be key to continuing to deliver on our business strategy," said Charles B. Leech IV, Chairman of the FCV Board of Directors. "We look forward to working with Peery as we maintain our focus on the needs of our customer-owners and strive to be the lender of choice for agriculture in our region."
Heldreth joined FCV in 2006, where he has managed many of the association's key functions and built strong relationships with customer-owners and staff. His 10-year tenure with FCV, preceded by five years with Colonial Farm Credit, has also enabled him to develop a deep understanding of agriculture in general, and more specifically in the industry sectors that are predominate in Virginia, West Virginia and Maryland. Prior to joining Farm Credit, Heldreth gained experience by working in the financial lending industry since 1997. He holds a bachelor's degree in Management and Leadership from Bluefield College.
"I'm extremely gratified that the board has selected me to be the next leader of our organization," said Heldreth. "Farm Credit of the Virginias has a strong past and an even stronger future, and I look forward to leading our outstanding and dedicated team in continuing our 100-year legacy of support for agriculture and the rural communities we serve."
Retiring CEO Dave Lawrence led FCV for 13 years, guiding its growth to become a $1.8 billion lending institution while expanding its customer base and building a skilled and committed employee team.
"It has been my privilege to support agriculture throughout my Farm Credit career, and to contribute in some small way to the strength of this most important industry," said Lawrence. "With an experienced board in place, this is the right time for the organization and our customer-owners to transition leadership, and I'm confident that Peery will continue our legacy of supporting our customers and take the organization to the next level of service and success."
About Farm Credit of the Virginias
Farm Credit of the Virginias provides over $1.8 billion dollars in financing to more than 11,000 farmers, agribusinesses and rural homeowners throughout Virginia, West Virginia and western Maryland. Farm Credit is a cooperative capitalized largely through investments made by farmers, ranchers and the rural homeowners and businesses that borrow from them. In fact, as part of a nationwide network they are the largest single provider of agricultural credit in the United States and have been for 100 years. Farm Credit helps maintain and improve the quality of life in rural America and on the farm through its constant commitment to competitive lending, expert financial services and for facilitating and sharing knowledge and resources through the Farm Credit Knowledge Center. For more information, visit http://www.FarmCreditKnowledgeCenter.com or http://www.FarmCreditofVirginias.com.