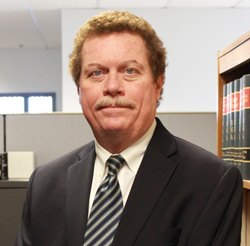 We are honored to be invited to share our research at the first meeting of the Kentucky Workers' Compensation Task Force.
Cambridge, MA (PRWEB) August 17, 2016
This Friday, the Workers Compensation Research Institute's (WCRI) CEO and president, Dr. John Ruser, will be sharing findings from WCRI's latest research on Kentucky with members of the newly formed Kentucky Workers' Compensation Task Force. Dr. Ruser's presentation comes at the invitation of co-chairs, Senator Alice Forgy Kerr and Representative Chris Harris.
"We are honored to be invited to share our research at the first meeting of the Kentucky Workers' Compensation Task Force," said Dr. Ruser. "WCRI's mission is not to take positions on or make recommendations regarding policy, but to provide policymakers and other system stakeholders with data to make more informed decisions, including evaluating the potential impact of proposed reforms and/or tracking the impact of already passed reforms." 
The task force was created by the legislature pursuant to House Concurrent Resolution 185 passed in the 2016 legislative session. According to the resolution, the task force "shall study and develop consensus recommendations concerning possible procedural and substantive changes to the workers' compensation system in Kentucky, with particular focus on enhancing the system of delivering income, medical, and vocational benefits to injured workers and improving the administration of the Kentucky workers' compensation system."
Among the research Dr. Ruser will be sharing with the task force are the following two WCRI studies:

CompScope™ Benchmarks for Kentucky, 16th Edition:  provides a comprehensive study that benchmarks the performance of Kentucky compared with other state workers' compensation systems.
Comparing Outcomes for Injured Workers in Kentucky: provides interstate comparisons of the key outcomes achieved by injured workers in Kentucky and 14 other states. The outcomes examined include recovery of physical health and functioning, return to work, earnings recovery, access to medical care, and satisfaction with medical care.  
ABOUT WCRI:
The Workers Compensation Research Institute (WCRI) is an independent, not-for-profit research organization based in Cambridge, MA. Organized in 1983, the Institute does not take positions on the issues it researches; rather, it provides information obtained through studies and data collection efforts, which conform to recognized scientific methods. Objectivity is further ensured through rigorous, unbiased peer review procedures. WCRI's diverse membership includes employers; insurers; governmental entities; managed care companies; health care providers; insurance regulators; state labor organizations; and state administrative agencies in the U.S., Canada, Australia, and New Zealand.