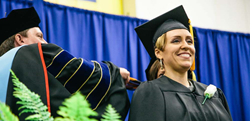 SPRING ARBOR, Mich. (PRWEB) August 18, 2016
The Council for Accreditation of Counseling and Related Educational Programs (CACREP) has granted accreditation to Spring Arbor University's Master of Arts in Counseling program — for both the Clinical Mental Health Counseling (M.A.) and the School Counseling (M.A.) tracks, at Flint, Grand Rapids, Kalamazoo, Lansing, Metro Detroit (Southfield), Metro Toledo and Spring Arbor sites. The CACREP board voted to grant accreditation to both program tracks for the next two years, validating the strategies and processes that SAU uses to train students in counseling.
Both tracks are 60 credits, and include a 100-hour practicum and a 600-hour internship field experience. The counseling program is designed as a cohort group experience (students go through the program with one group of classmates) that begins and ends with collaborative completion of coursework.
Students pursuing school counseling complete their internships in a traditional K-12 school setting. They must complete 300 hours in an elementary setting and 300 in a secondary setting. Students pursuing clinical mental health counseling will apply to become Limited Licensed Professional Counselors upon graduation, and will work under the direct supervision of a fully licensed professional counselor during the completion of the 3,000-hour post-degree provisional licensure period.
Spring Arbor University is committed to equipping students to make a difference in the lives of those around them, so the Master of Arts in Counseling program fits perfectly into the mission and ideology of the university. It is an honor and a great step forward to receive accreditation from CACREP.
CACREP is a specialized accrediting body that is recognized by the Council for Higher Education Accreditation (CHEA).