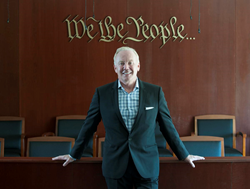 "I'm excited to be part of the team that will shine a spotlight on Mr. Tracy and chronicle his triumphs and legacy of uplifting people and helping them reach their full potential."
Newport Beach, CA (PRWEB) August 19, 2016
On the heels of his recent address at the United Nations in New York City, Newport Beach attorney West Seegmiller will spread his wings even further by serving as co-producer of a documentary exploring the life of Brian Tracy, considered by many to be the "grandfather of motivational speaking." Seegmiller will join 4-time Emmy Award winning filmmaker Nick Nanton on "Maximum Achievement: The Brian Tracy Story," that will explore the life of this pioneer who laid the groundwork for Tony Robbins, Dale Carnegie and other self-help gurus.
"Before any of today's motivational speakers were ever around, Brian Tracy was the first to hold self-help seminars where he developed audio books and other tools to help inspire tomorrow's leaders. He carved out a niche for himself in a budding industry and parlayed his skills and talent to become a go-to source for government leaders, captains of industry and other world-renowned figures," said Seegmiller, who received acclaim on his recent UN talk about the exploitation of impoverished workers around the world by profit-seeking companies in America. "I'm excited to be part of the team that will shine a spotlight on Mr. Tracy and chronicle his triumphs and legacy of uplifting people and helping them reach their full potential."
Seegmiller, a former California State Pro-Tem Judge, is known for taking on well-known entities like Coca Cola, Southern California Edison, Rockwell International and, most recently, TGI Fridays and emerging victorious, earning his clients multi-million dollar verdicts. He has generated interest in his practice by building reproductions of actual courtrooms complete with judge's bench, jury box and tables for the plaintiff and defendant at his offices. This isn't an aesthetic consideration, but rather a functional space for him to conduct "pre-trials" of his cases. He hires mock "juries" to hear his cases before presenting them to real ones so he can shape and reshape his arguments for maximum impact.
Seegmiller became an "advocate for the underdog" due to personal circumstances. While in his 20s, he was involved in a devastating motorcycle accident that required months of painful treatments to recover from his injuries. He sought justice for himself and it inspired him to help others.