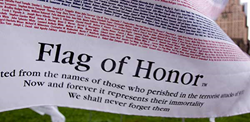 Little Rock, AR (PRWEB) August 17, 2016
FlagandBanner.com will mark the upcoming 15th Anniversary of the September 11th attacks by offering flags to support the Voices of September 11th (VOICES). This 501c3 nonprofit organization was founded by Mary Fetchet, who lost her 24 year old son Brad on 9/11.
The Fetchet family turned their loss into a living legacy for those who perished on 9/11. The VOICES project has provided more than 120,000 hours of social services support and built trusting relationships with those impacted by 9/11. Mary's husband Frank continues as a full time volunteer leading Development at VOICES.
The work the organization has done since 2001 gives them experience and understanding, enabling VOICES to offer help to any community that suffers from an act of terrorism, mass violence or natural disasters. Frank and Mary, as leaders of the VOICES project, feel an ethical and moral responsibility to share their nearly 15 years of expertise to promote awareness about the long-term needs of victimrsquo;s families, first responders and survivors. For this reason they have launched the VOICES Center of Excellence for Community Resilience to help communities heal after other tragedies.
On this 15th anniversary Frank and Mary Fetchet would like everyone to not only remember the fallen but to also remember their families who are still struggling with the loss of loved ones. As an Authorized Annin Distributor, we at FlagandBanner.com are proud to be a part of helping raise funds for this worthy cause.
With each purchase of either the Flag of Honor or the Flag of Heroes, a portion of the proceeds will go directly to the VOICES foundation. While flying the flag on September 11, or Patriot Day as it has come to be called, donors will be honoring the memory of those lost, their families and helping future victims of tragic events.
The Flag of Honor lists the 2,977 names of all who were lost on September 11, 2001.
Although the United States was the primary target of terrorism that day, the events of 9/11 directly affected the 90 other countries represented on this flag.
The Flag of Heroes lists the names of every First Responder lost when the towers collapsed. Both the Flag of Honor and the Flag of Heroes are made in the USA.
Those who would rather make a direct donation to the VOICES project can do so at their website: http://www.voicesofsept11.org. (Look for the yellow Donate button.)
FlagandBanner.com has been in the flag business since 1975, for more information visit them online or call 1-800-445-0653 to speak with one of their flag experts.