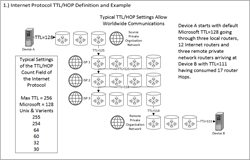 "The safeguard for a Golden Goose Server is to "neuter", or "clip its wings" to keep your goose from getting cooked, or sticking its neck out too far."
Sacramento, CA (PRWEB) August 18, 2016
Bill Alderson, recognized by ABC News for "parachuting into the Pentagon" immediately following 911 to help recover communications, today announces a Hop Sphere Radius™ Security capability claiming it can stop a security breach
Alderson protects sensitive servers by limiting communications to a safer hop sphere radius. Services are offered to protect servers now while development begins to provide Hop Sphere Radius Security Management automation.
Limiting a server's hop radius forces communications to remain on its own wire, a single data center, the internal network or to a limited range or sphere of communications on the Internet. Methods reduce risk by limiting network access from 100% to 1% of the Internet. Hacker's with stolen credentials outside the protected server's sphere can't even get a login prompt, drastically reducing attack surface.
Sensitive servers with vital information are considered to be a Golden Goose and can be protected from internal or external threats. For Web servers it may limit communications to a locality, like New York City, instead of the whole world, and databases or other back-end servers may be protected from internal user or VPN threats, forcing only data center communications even if firewall protection doesn't.
Hop Sphere Radius limits devices from reaching or being reached beyond appropriate limits – accomplished on the device itself. Even if the firewall fails the Golden Goose must "stay in its nest" – it cannot communicate beyond its limited sphere.
Should a server become infected with a Trojan virus, it can't communicate to places in far-away countries beyond the rule of law where hackers direct the Trojan to dump sensitive data.
Alderson says "the primary safeguard for a Golden Goose Server is to "neuter", or "clip its wings" to keep your goose from getting cooked, or sticking its neck out too far." Reducing access footprint from 100% to under 1% means fewer attempts, lowering burden on sophisticated security tools and people analyzing attempts.
Alderson launched GoldenGooseSecurity.com this week providing consulting and developing software to help stop the wholesale raiding of the world's most sensitive data.