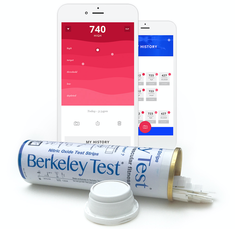 confirms conversion of dietary nitrate to nitric oxide metabolites in the body, thereby, helping to validate claims of various dietary nitric oxide products
Berkeley, California (PRWEB) August 18, 2016
Berkeley Test announced today that the U.S. Patent and Trademark Office has issued U.S. patent number 9,360,490, entitled, Compositions, Apparatus and Methods for Monitoring Biomarkers, for the Nitric Oxide Test Strip and a method to assess the effects of diet and exercise on changing an individual's nitric oxide status and health.
Berkeley Test users are able to rapidly and in a non-invasive fashion ensure that dietary nitrates are converted in the body. In doing so, the strips allow individuals to validate nitric oxide promoting foods, beverages, and supplements, thereby, make real-time dietary adjustments and other lifestyle changes that impact cardiovascular wellness.
Poor diet and physical inactivity remain the primary drivers of cardiovascular disease and metabolic disorders such as gout, obesity, hypertension, and diabetic insulin resistance. A daily lifestyle of a cardioprotective diet, including nitrate-rich plant-based foods, is a solution.
The amino acid, arginine can be a source for the body to make nitric oxide. Unfortunately, as we age, we lose our ability to make nitric oxide through the use of arginine, thereby increasing reliance on a non-arginine source, specifically, dietary nitrate. Plant-based foods, such as the DASH Diet – rich in leafy greens such as arugula, kale, and spinach – help supplement the body's pool of nitrate, which can be converted to nitric oxide, independent of arginine.
Athletes have already taken advantage of these discoveries by increasing the consumption of nitrate-rich beetroot juices and powders to elevate nitric oxide levels which increases endurance and performance. A growing number of athletes are now validating the nitric oxide potency of their beet juice or powder sources and modifying their training diets to optimize performance.
In 1998 the Nobel Prize for Medicine was awarded for the discovery of the important role that nitric oxide plays in cardiovascular health and wellness. Since that time, a number of clinical trials have revealed nitric oxide as a vital bioactive for maintaining healthy blood pressure, increasing athletic endurance, and delaying vascular ageing.
ABOUT BERKELEY TEST
Berkeley Test has been providing affordable saliva Nitric Oxide Test Strips to athletes as part of their training programs so they can measure and monitor the positive effects of nitric oxide-potent plant-based foods and supplements.
By incorporating test strips into one's daily routine, Berkeley Test users can make informed real-time dietary adjustments. Recognizing the importance of monitoring saliva nitric oxide status for improving vascular heath, Berkeley Test's patented salivary nitric oxide test strip both confirms conversion of dietary nitrate to nitric oxide metabolites in the body, thereby helping to validate claims of various dietary nitrate products.
The Nitric Oxide Test Strips by Berkeley Test are available at Amazon in packets of 10 individually sealed strips and tubes of 50 strips thereby allowing multiple measurements throughout the day.
Berkeley Test is committed to shifting society's current practice of managing chronic disease to preventing disease by providing a family of affordable, do-it-yourself self-check saliva tests to monitor the levels of natural metabolites or 'health biomarkers' that our body makes to maintain our health and wellness.
Berkeley Test is a registered mark and Saliva Nitric Oxide Test Strips is patented.
For more information please visit http://www.berkeleytest.com or visit us on Facebook.