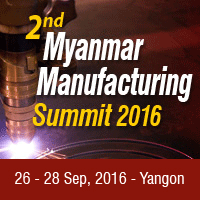 This year CMT's upcoming 2nd Myanmar Manufacturing and 3rd Myanmar Transport & Logistics Summits run consecutively from 26th through to 29th September at the PARKROYAL Yangon.
Yangon, Myanmar (PRWEB) August 23, 2016
Key officials from Ministry of Industry, Ministry of Transport & Communications, Myanmar Customs Department, Myanmar Investment Commission (MIC), and Directorate of Investment & Company Administration (DICA), plus senior representatives from local as well as global companies join international delegates vying to tap into the potential in these two sectors in Myanmar.
Focusing on "Unlocking Myanmar's Manufacturing Potential", 2nd Myanmar Manufacturing begins with an Opening Address on the latest regulations and new government initiatives by H.E. U Khin Maung Cho, Union Minister, Ministry of Industry.
Key authoritative officials also participating include:

Ministry of Transport & Communications highlights the Masterplan on transport and logistics implementation
Myanmar Japan Thilawa Development Ltd provides insights on latest developments in Thilawa SEZ
MIC and DICA spells out key changes in Foreign Investment Law
Myanmar Customs Department outlines measures to minimize bottleneck at Custom and Trade facilitation
Others on speakers panel are international and leading manufacturers in Myanmar including H&M, Coca Cola, AA Medical Products, Yathar Cho, Millcon Thiha GEL Limited and Oji Myanmar Packaging Co Ltd as well as technology provider and distributer, DKSH.
To complement above discussions, 3rd Myanmar Transport & Logistics provides timely update on the growing prospects and challenges in preparing the sector in tandem with manufacturing growth.
A keynote address by Mr. Min Lwin, Director General, Department of Civil Aviation, Ministry of Transport & Communications leads to other detailed insights by:

Myanmar Port Authority shares update on Seaport, Dry port and Inland Water Way Infrastructure and Connectivity
Hear from Myanma Railway the Latest Railway Infrastructure Projects in Myanmar
Baker & McKenzie details the PPP Model and Legal Framework for Better Port Efficiency
Department of Civil Aviation outlines Airports and Air Cargo Infrastructure Development
Find out from Puma Energy on Oil Storage and Terminal Investment in Myanmar
Senior representatives from JICA, IFC, Asian Development Bank, CDC Group, Premium Sojitz Logistics and DHL are also in the speaker panel of 3rd MTL.
As a bonus for attending either the 2nd Myanmar Manufacturing Summit and or the 3rd MTL, attendees get to join a complimentary Site Visit to Thilawa SEZ on 26 September departing at 1pm and returning at 5.45pm.
To access the full agenda for these 2 summits, visit the webpages below:
2nd Myanmar Manufacturing (2nd MMS)
3rd Myanmar Transport & Logistics (3rd MTL)
For help with registration, contact Grace at (65) 63469147 for 2nd MMS or Ms. Huiyan at (65) 6346 9113 for 3rd MTL.