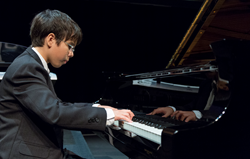 I hope to be a famous composer when I grow up, and I know that I must work very hard to achieve this dream. (Alexander Hurvitz)
Tokyo, Japan (PRWEB) August 24, 2016
Thirteen-year-old pianist Alexander Hurvitz of San Gabriel, California, a student at Harmony Music World Institute in Fullerton, California, performed August 23 at the 45th annual Yamaha International Junior Original Concert (IJOC).
Alexander was the lone U.S. representative selected to perform at the prestigious Tokyo concert, which also included 11 other artists chosen from around the world.
The young San Gabriel artist reprised The Trail of the West, his original composition for piano and fiddle that he premiered at the 2016 U.S. National Junior Original Concert (NJOC) held at the Cerritos (Calif.) Center for the Performing Arts this past July. Alexander has been debuting his own compositions at the NJOC since 2011, when he was nine years old.
The international musicians, who ranged in age from eight to 15, showcased new compositions in a variety of settings, from piano solos to chamber and larger ensembles.
The IJOC offers students of the worldwide Yamaha Music Education System the opportunity to unlock their full musical potential by composing original pieces and debuting them in front of enthusiastic audiences. This year's participants come from China, France, Japan, Indonesia, Taiwan and the United States.
Other well-known musicians who were graduates of Yamaha Music Education System and presented at Junior Original Concerts when they were children include Hiromi Uehara, Max Levinson, Keiko Matsui and Jeremy Siskind.
Alexander has been involved with music since he first started taking music lessons at Yamaha Music School when he was three and a half years old. He started composing at age 6. When he isn't studying music or going to school he enjoys playing soccer.
"I hope to be a famous composer when I grow up, and I know that I must work very hard to achieve this dream," says Alexander. "In my composition, a cowboy travels on horseback to explore the Wild West… arrives at the final frontier and watches the golden sun set to the west." He studies composition with Mr. Carlton Liu at Harmony Music World Institute.
The Yamaha Music Education System is based in music schools and musical instrument dealers in 40 countries worldwide. In the United States, more than 60 schools nationwide are authorized to teach the Yamaha method. Since its inception in 1954, more than six million students have graduated from the program and many of them have become professional musicians.
The Yamaha Music Foundation in Tokyo produces, publishes and distributes music education materials throughout the world. The comprehensive system developed by Yamaha helps students reach a high level of ability not only as performers, but also as improvisers and composers.
To learn more about the Yamaha International Junior Original Concert, visit http://www.yamaha-mf.or.jp/english/