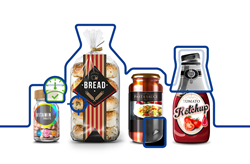 No matter how safe or efficient your production line is, newer machines bring 50% more sensitivity, faster performance with accuracy and operate at 80% less running power.
(PRWEB) August 22, 2016
No matter how safe or efficient the production line is, newer machines bring 50% more sensitivity, faster performance with accuracy and operate at 80% less running power. The latest technology brings major benefits which is vital to beat competition. While many in-line product inspection systems continue to operate effectively, some older models may not be making processes as competitive as they once did. What's more, older components also increase the chances of breakdowns and faults, making the likelihood of unplanned downtime ever more real.
Technology advances with time, and the latest checkweighing, metal detection and x-ray food inspection systems from METTLER TOLEDO contain software enhancements which make it easier to comply with evolving and increasingly-strict Global Food Safety Initiative (GFSI) industry regulations and country standards.
In addition, newer product inspection platforms also incorporate a number of additional features which can have a significant impact on businesses by improving brand protection and compliance, reducing costs, maximizing performance and enhancing original equipment effectiveness.
1. Improved Brand Protection and Compliance
Modern industrial food metal detectors employ innovative technologies and sophisticated analytical tools capable of increasing detection sensitivity by up to 50%. Such detectors are capable of identifying metal fragments half the size of the smallest previously detectable by older metal detectors.
METTLER TOLEDO Safeline's new range of Profile Advantage metal detectors can help to improve brand protection and regulatory compliance by overcoming the traditional limitations on sensitivity and reducing incidents of false triggering that machines purchased before 2005 experienced.
Improved sensitivity makes many of the operational compromises inherent in an older machine's technology obsolete, allowing Quality and Production Managers to define new factory standards for product safety without compromising production efficiency.
2. Reducing Costs to Increase Profits
Food producers face increasing pressure to operate flexibly and manufacture a wide range of products from existing production lines that are capable of quickly switching from one product type to another. However, frequent product changes increase downtime and provide more opportunities for costly operational mistakes.
METTLER TOLEDO Garvens C3000 checkweighers offer higher weighing accuracy which supports tighter, more flexible modern production demands. Such checkweighers are also able to operate more quickly, whereas older machines may have inadvertently become "bottlenecks" in an environment of newer, faster production. The knock-on effect is higher throughput capability, better quality products, less waste and ultimately higher profits.
3. Maximize Performance
Maximizing the performance of any product inspection equipment is essential. The latest METTLER TOLEDO Safeline X33, X36 and X37 Series of x-ray systems are the most advanced inspection solutions on the market, featuring detector technology which can be up to five times more sensitive to x-rays than traditional systems, ensuring unparalleled precision in the contaminant inspection of food products. These new machines are also the most energy-efficient x-ray systems on the market, with the ability to deliver consistent and reliable inspection results in real-time, match changing production needs, reduce machine footprints and significantly reduce operational costs.
In some cases, the original rationale behind equipment purchases in the past is no longer valid, as the enhancements in user experience, improved set-up and servicing, and greater flexibility have pushed the total cost of ownership of such solutions downwards. What's more, with the latest x-ray systems built following European Hygienic Engineering and Design Group (EHEDG) principles and only consuming 20% of the power they did over a decade ago, it's important to health check older equipment and compare it to the latest product inspection solutions on the market.
4. Enhancing Overall Equipment Effectiveness (OEE)
Accurate production data is at the heart of any OEE improvement plan. To be reliable, production performance data must be collected digitally, automatically and in a consistent format.
The latest generation of in-line product inspection equipment solutions from METTLER TOLEDO automatically output such performance data for OEE analysis. Compared to their predecessors, for example, sophisticated on-board analytical tools and ProdX propriety management software solutions give production line managers real-time data on production line OEE at the point of inspection by the checkweigher, metal detector or x-ray solution. At any moment in time, managers can see how their line's performing. They have the data at their fingertips that invites them to delve deeper, to see where they can make changes to raise their OEE closer to the world-class target of 85%.
For more information on the latest METTLER TOLEDO food contaminant detection equipment visit http://www.mt.com/global/en/home/products/Product-Inspection_1.html?cmp=af_GLO_EPR_PI_News_PIFePR-opri_20160721
About METTLER TOLEDO Product Inspection
METTLER TOLEDO Safeline is the world's leading supplier of metal detection and x-ray inspection solutions for the food and pharmaceutical industries. Together with Garvens Checkweighing, CI-Vision and Pharmacontrol Electronic GmbH (PCE), METTLER TOLEDO Safeline forms the Product Inspection division of METTLER TOLEDO.
METTLER TOLEDO develops, produces and markets precision instruments worldwide. The company is one of the largest suppliers of weighing and quality control systems in the world, whose products are used in laboratories as well as industrial processing and food retailing applications. Renowned producers of all conceivable everyday products rely on METTLER TOLEDO'S technology as an important aid to delivering consistent product quality and innovative developments. These producers reap the benefits of the company's global presence and sales and service network.
METTLER TOLEDO'S corporate philosophy centres around high-quality standard and tailored solutions. The company forms a true partnership with its customers providing support during the selection of appropriate systems and working together to develop unique solutions which increase process efficiency, reduce overall manufacturing costs and improve competitiveness.
For general information on METTLER TOLEDO Product Inspection, visit: http://www.mt.com/pi