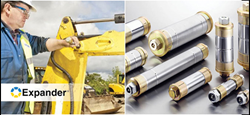 We are very excited about exhibiting at MinExpo International. It is an important event in the mining industry and it is great to be part of the worldwide Nord-Lock Group
(PRWEB) August 22, 2016
Expander, the leader in pivot technology, is exhibiting at the MinExpo International in Las Vegas, Nevada, USA. Expander will be exhibiting in booth 661 with parent company the Nord-Lock Group, a world leader in bolt securing systems. The show takes place the 26th-28th September 2017 at the Las Vegas Convention Center.
Expander has been servicing the market with permanent solutions for pivot wear for nearly 30 years. The Expander® System has been field tested for over 50,000 hours without failure. The company's products are used throughout the mining, oil and gas, and agriculture industries. So far, there are approximately 50,000 different Expander applications for over 1,100 machine makes and 8,000 models. Visitors at MinExpo International will be able to see their pivot technology at the show.
"With over 30 years of experience in mining and Oil and Gas, we understand the special requirements of these industry. We work closely with our customers, to deliver cost effective pivot solutions", says Joakim Hedlund, Business Development Manager of Expander.
"We are very excited about exhibiting at MinExpo International. It is an important event in the mining industry and it is great to be part of the worldwide Nord-Lock Group. Our team will be on hand to discuss any specific customer requirements. With our proprietary 3D CADEX system, we can design new applications within minutes and have them delivered within a few days. Each design is stored and made available via Expander® System Online; a global internet service manned around the clock by our design offices in United States and Sweden."
About Expander
The Expander System is manufactured and inventoried in United States, Sweden and Germany. Our products are marketed and distributed through a rapidly growing global network. For more information contact +1 563 659 3320 or http://www.expandersystem.com.