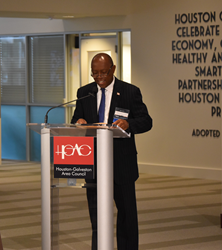 "I salute H-GAC for utilizing their resources to actively improve mobility throughout the region. The Road Warriors campaign has my unyielding support." (Photo Credit: H-GAC)
Houston, Texas (PRWEB) August 18, 2016
With the partnership of Houston Mayor Sylvester Turner,H-GAC unveiled "Road Warriors For Smarter Commutes" August 4th at City Hall. The new campaign is designed to educate and inform commuters about available commute alternatives in the region. To launch the campaign, H-GAC held a community festival at Hermann Square.
"Peak period congestion is costing you more than $1,300 a year," said H-GAC Director of Transportation Planning Alan Clark during the unveiling. "We believe people are smart. If we give them a better, faster and cheaper way to get to work, they'll be interested, and it benefits everyone."
The unveiling was keynoted by Turner and included guest speakers METRO Board Chair, Carrin Patman, Greater Houston Partnership Board Member, George A. DeMontrond III and Central Houston President, Bob Eury. Elected officials, business leaders and city planning leaders from Houston, Pearland, Brookshire and Fort Bend County attended showing their dedication to reducing the region's traffic congestion.
More than 500 people attended the Road Warriors Festival held at Hermann Square in downtown Houston to learn about a variety of alternative commuting options, tour METRO buses and participate in activities while enjoying food, live music and giveaways.
The Road Warriors campaign, developed by H-GAC's Commute Solutions Program, is designed to reduce congestion and pollution by encouraging residents to carpool, vanpool, bike or ride transit to work. It includes findasmarterwaytowork.org, a comprehensive digital resource designed for commuters and employers to identify and enroll in commuting alternatives. The Road Warriors campaign is a multi-media effort designed to encourage commuters to make an impact by trying a different commuting option once a week.
Mayor Turner Photo: "The daytime population for the city of Houston increases by 27 percent every day Monday through Friday," Turner said at City Hall during the unveiling. "I salute H-GAC for utilizing their resources to actively improve mobility throughout the region. The Road Warriors campaign has my unyielding support." (Photo Credit: H-GAC)
###
ABOUT HOUSTON-GALVESTION AREA COUNCIL
Houston-Galveston Area Council (H-GAC) is a voluntary association of local governments and elected officials from the 13-county Gulf Coast Planning Region – an area of 12,500 square miles with more than six million people. H-GAC is designated by the State of Texas as the region's Metropolitan Planning Organization for transportation planning for Brazoria, Chambers, Fort Bend, Galveston, Harris, Liberty, Montgomery and Waller counties.