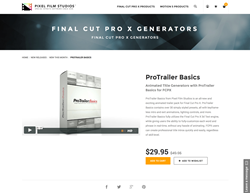 With 30 keyframeless intro and exit animations ProTrailer Basics is the perfect plugin for making professional title intros quickly and easily
Aliso Viejo, California (PRWEB) August 24, 2016
Pixel Film Studios Releases ProTrailer Basics, an Animated Title Generator Plugin for Final Cut Pro X
"With 30 keyframeless intro and exit animations ProTrailer Basics is the perfect plugin for making professional title intros quickly and easily," said Christina Austin - CEO of Pixel Film Studios.
ProTrailer Basics includes over 30 presets including options with Motion Blur, Depth of Field and more. FCPX users can customize any preset, changing the text contents, color, environment color, shadows and more. Each preset can be stretched out to accommodate any duration for maximum flexibility.
Every ProTrailer Basics preset comes built with all the custom controls any FCPX editor would need to create professional looking text animations. FCPX users can edit every part of their 3D text, from extrusion depth, color, reflectance, and more.ProTrailer Basics uses Final Cut Pro X's intuitive text controls, along with custom-built animation and style settings.
ProTrailer Basics gives FCPX users access to all-new keyframe-less animations, saving FCPX editors the hassle of key-framing and modifying their own text. ProTrailer Basics also includes an all new exit animation tool, allowing users to select intro and exit animations for all words and messages.
ProTrailer Basics is an an-new set of Animated Title Generators for Final Cut Pro X. FCPX users can drag & drop the desired preset to the timeline, modify the text in real-time, and choose from over 50 unique animations. Each preset in ProTrailer Basics contains an environment that can be turned off, allowing users to place each generator over their footage.
*Designed for FCPX Version 10.2.1 and newer
**Fonts used are not included but can be downloaded from various internet sources
Established in 2006, Aliso Viejo, California-based Pixel Film Studios is an innovative developer of visual effects tools for the post-production and broadcast community. Their products are integrated with popular non-linear editing and compositing products from Apple FCPX. Apple, the Apple logo, Mac OS X, and Macintosh are registered trademarks of Apple Inc. in the U.S. and/or other countries. All other trademarks and trade names are the property of their respective owners.