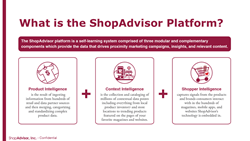 Powered by ShopAdvisor campaigns drive consumers to stores with incredible personalization and knowledge that the specific product a customer wants will be there.
Concord, MA (PRWEB) August 23, 2016
ShopAdvisor, the leader in drive-to-store retail proximity marketing, has delivered a major enhancement to its platform. Leveraging the company's acquisition of Retailigence earlier this year, the new version features across-the-board enhancements to its Product Intelligence, Context Intelligence and Shopper Intelligence modules. ShopAdvisor has also introduced new advancements to its appNET and its Retail Partner Program, which extend the scope and value of the ShopAdvisor ecosystem for all participants -- consumers, media/publishers, brands, retailers, agencies, and mall operators. The new version of the ShopAdvisor Platform enables quick and cost-effective development and execution of proximity marketing campaigns, which deliver personalized and compelling shopping experiences that take shoppers from their smartphones into stores to purchase products.
"Proximity marketing has developed to a point where location awareness and basic shopper information has become a commodity," said Jeff Papows, CEO ShopAdvisor. "Our customers are excited about the new version of our platform because it provides them with vastly deeper intelligence about shopper affinities that are contextually relevant based on shopper activity from our appNET partners and near real-time details on millions of products across hundreds of thousands retail locations. This means that when their 'Powered by ShopAdvisor' campaigns drive consumers to stores, it will be done with incredible personalization and the knowledge that the specific product a customer wants will be there. To date, this has been something the vast majority of proximity marketing campaigns have failed to deliver, but the success our customers are seeing indicates that we've solved this problem."
The ShopAdvisor Platform Delivers Unmatched Intelligence that Matters
The ShopAdvisor Platform is uniquely designed to facilitate the shopper's path to purchase in brick-and-mortar stores via proximity marketing programs that are powered by the contextual information and services delivered through its Product Intelligence, Context Intelligence, Shopper Intelligence modules as well as its appNET and retail partners and customers.
Product Intelligence -- Ingests information from hundreds of sources -- direct relationships with retailers and other data partners -- and then merges, categorizes, and standardizes complex product data. With detailed metadata on more than 200 million products, online and in-store across more than 200,000 brick-and-mortar stores, ShopAdvisor can provide rich Product Intelligence to supplement any campaign.
Context Intelligence -- Collects and catalogues millions of contextual data points including everything from local product inventory and store locations to trending products featured on the pages of your favorite magazines and websites. ShopAdvisor's Context Intelligence helps marketers understand the relationship between a shopper's current context and the products and messaging critical to user engagement.
Shopper Intelligence -- Captures signals from the products and brands consumers interact with. ShopAdvisor's technology is embedded in hundreds of magazines, mobile apps, and websites, allowing the platform to derive deep consumer insights, such as brand, category, and retailer affinities along with measurements of price sensitivity, purchase intent, and optimal messaging times. With ShopAdvisor's Shopper Intelligence, marketers can not only better target users, but also better personalize experiences to maximize engagement.
The Growing ShopAdvisor Ecosystem
As proximity technology becomes increasingly commoditized, having deeper contextual understanding of shoppers and products will drive the most successful mobile proximity marketing programs. To this end, ShopAdvisor has been continually expanding its ecosystem of partners (and customers) who share their shopping and product information with the ShopAdvisor Platform.
ShopAdvisor's appNET is a rapidly expanding network of independent mobile app providers offering engaging apps for social shopping, product discovery, digital catalogs, local maps and navigation, travel destinations, gaming, virtual reality and more. ShopAdvisor's appNET API provides a simple way for mobile app developers and retail technologists to quickly add retail product and store location information into mobile search results, providing a central hub and a single format for retail systems and consumer-facing applications to connect. Shoppers conducting product searches on their smartphones using those apps receive highly actionable local product availability information for making purchases at nearby retailers.
ShopAdvisor Retail Partners are a growing community of brands and retailers that provide up-to-the-minute product details and inventory availability information to the ShopAdvisor Platform. This enables ShopAdvisor to make more than 200,000,000 products across more than 100,000 retail locations available to shoppers in Powered by ShopAdvisor mobile proximity marketing programs.
"Brands make significant investments in go-to-market strategies for new products, and it's vital they navigate that last mile of getting shoppers into a store where a product is in stock," said Jeff Messer, Director Product Management for Brands at ChannelAdvisor. "Through our strategic partnership with ShopAdvisor, we're helping branded manufacturers use a broad array of retailers across many geographies to sell their products, as well as enable proximity marketing campaigns to drive foot traffic to select retailers where the product is available."
"Powered by ShopAdvisor" Campaigns Raise the Bar in Proximity Marketing
The ShopAdvisor Platform enables retailers, brands, agencies, publishers and mall properties to create proximity marketing campaigns that take consumers from their smartphones into brick and mortar stores at unprecedented levels. ShopAdvisor's contextually relevant data -- spanning shopper, product and location information -- provides the foundation for the development of mobile landing experiences that engage the shopper with the products they want that are closest to their current location. This data also powers context-based messaging, which can include mobile banner ads, push notifications and more, which spur the shopper to take action. ShopAdvisor customers have seen unprecedented results and ROI when combining all of these capabilities in a drive-to-store proximity marketing campaign. For example, the Shop Now! with ELLE Magazine campaign delivered 106 times more shoppers to a participating store compared to typical mobile advertising programs. Another customer, World Kitchens, used ShopAdvisor for a drive-to-store campaign that covered 182 retail locations. The "Powered by ShopAdvisor" campaign delivered a 25% increase in sales for the products included in the campaign.
ABOUT SHOPADVISOR, INC.
ShopAdvisor enables media/publishers, brands and retailers to deliver mobile shopping experiences that drive consumers' path to purchase in brick-and-mortar locations, i.e., "clicks to bricks." ShopAdvisor's mobile proximity platform combines real-time, contextualized shopper, product and location information with data sciences to deliver each consumer a uniquely personalized and compelling shopping experience that spans from their smartphone into the store. ShopAdvisor's customers include dozens of leading publishers, brands and retailers, including Elle, Cosmopolitan, People StyleWatch, Marie Claire, Men's Health, Cooking Light, Real Simple, kmart, Dell, Walgreens, Hallmark, Asics, Anheuser-Busch, Pepsico and P&G.