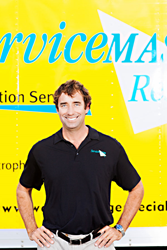 Staying properly licensed is key to providing the highest quality service to our customers
Vero Beach, FL (PRWEB) August 19, 2016
ServiceMaster By Glenn's wants to make sure customers know who they are hiring. Does the company being hired have a license to assess and re-mediate mold? Follow these simple steps to see.
Go online to The State of Florida Department of Business and Professional Regulations and check under mold- related services licensing program (myfloridalicense.com). Search by type of license, then mold related, then mold assessor OR mold remediatior, and lastly Indian River County. The findings will be surprising!
All licenses have expired by the end of July, unless the intensive classes have been taken that are required to renew. Under Mold Remediator, only 7 individuals will have current, active, renewed mold remediator licenses for the entire Indian River County. Under Mold Assessor, only 10 individuals will have current, active, renewed mold assessor licenses for the entire Treasure Coast.
This is a big deal when knowing if the company you hire is qualified to assess and treat a mold problem. Rest assured that ServiceMaster By Glenn's is state-certified in both.
Keith Grella has been serving South Florida as a disaster restoration expert for over 23 years and has completed the necessary classes and license updates to meet the July 30th deadline. Keith Grella, the second generation owner of ServiceMaster by Glenn's which his father founded in the '70's, is one of South Florida's top authorities on disaster planning and recovery services, water damage restoration, fire damage repair and mold removal services. He is frequently called on for his knowledge and experience in disaster situations by Vero Beach insurance agents and adjusters, property managers, general contractors, and many other service providers. Keith has personally project managed over 6,000 restoration jobs over his 23 year career in this field.