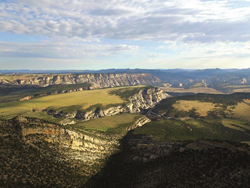 Hotchkiss, Colorado (PRWEB) August 19, 2016
United Country – Colorado Brokers and United Country – RealQuest Realty are proud to present an unusual real estate opportunity to outdoorsmen and investors with the absolute auction of the Blue Mountain Ranch near Dinosaur, Colorado. Situated adjacent to the Canyon Overlook of Dinosaur National Monument, the ranch is 1,298 deeded acres with an additional BLM grazing lease of 770 acres.
"It's gorgeous property," says broker and auctioneer Gary Hubbell, a Colorado native and former outfitter and hunting guide. "The highest elevation is 8,249 feet, with wide vistas of northwest Colorado and a stunning view of the Canyon Overlook and the confluence of the Green River and Yampah River. You can summer up to 65 pairs of cattle on it, and the elk hunting is world-class."
Trophy elk hunters know that Colorado's Game Management Unit 10 is one of the most sought-after destinations in Colorado for trophy elk hunting, and this ranch doesn't disappoint. Hunters have harvested huge Boone & Crockett bulls on the ranch, scoring up to 386 B&C. GMU 10 is also known for excellent mule deer hunting, and the ranch has healthy populations of quality bucks.
Not only is it excellent hunting property, says Hubbell, "The conservation values on this ranch are very high," he reports. "It is prime calving ground for elk, but it's also home to healthy populations of both blue grouse and sage grouse. The property is not in a conservation easement, but a savvy investor will know that the wildlife values, its proximity to a national monument, and the view plane from the road into the monument make it a very desirable candidate for an easement, which could result in not only terrific tax breaks, but also cash payments to the right buyer."
It's no doubt a nice property, a buyer may ask, but why auction? "Auction is a way to quickly generate a great deal of interest in a property," explains Mike Krieg of United Country – RealQuest Realty in Grand Junction, a co-listing broker in the venture. "People react differently when they know a property won't be available after a certain date. It motivates them to get involved and make their bids!"
Mike Jones, president of United Country Auction Services, keeps an eye on United Country auctions all over the U.S. and several other countries, including the Blue Mountain Ranch. "United Country transacts $4 billion a year in real estate sales, and about 25% of that is through auction," he says. "It's becoming a popular means of selling property. The owners of the Blue Mountain Ranch wanted a quick sale, and Mike Krieg and Gary Hubbell know how to use our marketing systems to maximum effect. We're really looking forward to the auction date."
Because of the remote property location, the auction will be held online. In order to keep unqualified bidders from skewing the auction results, bidders must post a $10,000 earnest money deposit before bidding permission will be granted. The auction will be held on September 14, 2016 using a "soft close," meaning that bidding will be extended for 5 minutes after each new bid until no new bids are received. Bidders can view the property maps, photos, and the associated YouTube video at http://www.TrophyElkAndRanch.com .
Contact:
Gary Hubbell, United Country – Colorado Brokers & Auctioneers
(970) 872-3322
grandviewranch(at)gmail(dot)com
http://www.uccoloradobrokers.com