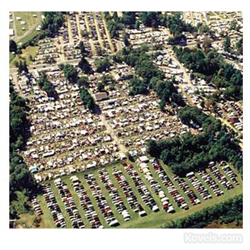 Cleveland, Ohio (PRWEB) August 19, 2016
Labor Day is approaching and collectors, antiques lovers and the experts at Kovels.com look forward to exploring fall flea markets throughout the country. The Kovels have rounded up five of their favorites. Some only come around a few times a year and each is renowned for its scale, variety of items, negotiable prices and popularity among both locals and tourists. Best of all, they are overflowing with treasures waiting to be found.
1. Shipshewana Trading Place Auction & Flea Market, Shipshewana, Indiana
Saturday Outdoor Antique Market – Saturday, September 3, 2016
Labor Day Market – Monday to Wednesday, September 5 –7, 2016
Fall Extravaganza – Tuesday to Saturday, September 27 – October 1, 2016
Something is always happening at Shipshewana. Located in Indiana's Amish country, this market is a Hoosier tradition and worth the trip. Saturday Outdoor Antique Markets (three each year) feature many vendors with quality antiques and vintage collectibles. Shoppers will find everything from small pieces of jewelry to large kitchen cupboards. There are also weekly auctions, a flea market twice a week from May through October 1, and extended flea market weekends, including Labor Day and the Fall Extravaganza, with antiques, art, jewelry, collectibles, home goods, up-cycled items and more.
2. Brimfield Antiques and Collectibles Shows
Brimfield Town Hall, 23 Main St., Brimfield, Massachusetts
Tuesday to Sunday, September 6 – 11, 2016
Make your way to central Massachusetts to visit the market that attracts over 50,000 people three times a year. The six-day Brimfield Flea Market is over 50 years old. There are twenty-one independent show fields and thousands of dealers, and they operate on a staggered opening and closing schedule. This large market has become an exciting tradition that attracts visitors from many states and countries.
3. Renninger's Antique and Collector's Extravaganza
Kutztown, Pennsylvania
Thursday to Saturday, September 22 – 24, 2016
Located in Kutztown, Pennsylvania, Renninger's hosts a flea market "extravaganza" three times a year. September 22 to 24 is the final market of the year. The extravaganza is set up behind Renninger's Antique & Farmer's Market, with exhibitors outside, under tents and in two 350-foot long pavilions. The event goes on in all weather conditions.
4. Burton Ohio Antiques Market
Geauga County Fairgrounds, Burton, Ohio
Saturday, September 24, 2016
This twice-a-year market is held rain or shine at Ohio's oldest county fairgrounds. Dealers from across the United States and Canada are under tents on the racetrack and inside under the grandstand, displaying silver, fine china, jewelry, porcelain, glassware, textiles, paintings, Americana, furniture, decorative accessories, rugs, primitives, old tools and much more. Burton is just east of Cleveland and home to one of the largest Amish communities in the world.
5. Round Top Texas Antique Week
4036 Texas Hwy. 237, Round Top, Texas 78954
Monday to Saturday, September 26 – October 1, 2016
Everything is bigger in Texas, and its premiere flea market is no exception. Round Top offers three shows a year – Spring and Fall Antiques Fairs that take place in four venues and a Winter Antiques Show. Round Top prides itself on being 100% antique and vintage—no reproductions and no new merchandise. Admission is $10, $20 for VIP Early Shopping, good for all days of the show. Plus – more than 50 other shows are also held along Highway 237 in communities around Round Top and Warrenton, where thousands of dealers from across the country sell a wide variety of merchandise, as well as antiques and collectibles. These shows open and close on different dates during a three week period, from September 17 to October 2. Most are free and they attract tens of thousands of buyers.
About Kovels.com
Kovels.com, created by Terry Kovel and Kim Kovel, provides collectors and researchers with up-to-date and accurate information on antiques and collectibles. The company was founded in 1953 by Terry Kovel and her late husband, Ralph. Since then, the Kovels have written some of America's most popular books and articles about antiques, including the best-selling Kovels' Antiques and Collectibles Price Guide 2016. The website, Kovels.com, online since 1998, offers more than a million free prices, and includes a free weekly email, "Kovels Komments." It gives readers a bird's-eye view of the market through the latest news, auction reports, a Marks Dictionary, readers' questions and answers and much more.
Contact Information:
Liz Lillis
216.752.2252
Pr(at)kovels(dot)com