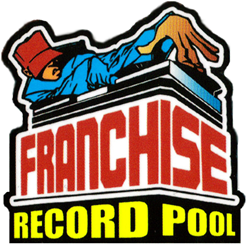 This latest update proves that FRP is the optimal online record pool
New York, NY (PRWEB) August 19, 2016
Franchise Record Pool (FRP) is one of the leaders in the record pool industry. Always looking to adapt and stay ahead of the curve, FRP launched FRPTV in late 2015. FRP TV offers Live Interactive Interviews within the entertainment industry, live streaming of entertainment industry events and much more direct to the homes of viewers around the world. Now, FRP is bringing a new innovative update to their website. FRP will be including a new Heavy Rotation Music Spotlight, a strong Artist Development Program and a cutting edge Live DJ Training Course called FRP DJ Academy.
The Heavy Rotation Music Spotlight gives upcoming or established artist or label the ability to get their music heard by the people that matters. This includes promoting links, bio, videos and photos. FRP has access to DJs around the world, Franchise Record Pool is the place to be to promote music. This is being marketed as the tool that will make or break careers. Artist will be placed on the homepage of Franchise Record Pool's official website for the whole world to see. The artist spotlight also includes the opportunity to visit the FRP TV studio and have a professional photo shoot along with a live interview and performance.
The Artist Development Program is Franchise Record Pool's way to give artist the right demographic and target audience the artist may need in order to generate a buzz. The Artist Development Program helps artist gain more exposure within the music industry. There is a recommended artist list which puts the content in front of many DJs around the world and the program also works directly with the artist to get them industry ready with target radio marketing.
FRP DJ Academy is Franchise Record Pool's newest venture designed to educate DJs around the world in the overall business aspect of being a DJ/Producer. This will be a 6 weeks course trained live online via FRP's Online TV network. Along with training in the traditional art of DJing, FRP Academy's training courses will include other areas such as creating a business entity, tools such as letter heads/business cards/contracts, knowledge about taxes/book keeping, training on being a professional radio DJ/Host as well as training in becoming a re-mixer/producer to name a few. On completion of the course the DJ will have the basic knowledge needed to work in institutions such as Night Clubs, Studios or Radio Stations as well as becoming self employed.
Franchise Record Pool is always looking for new ways to stay ahead of the competition. This latest update proves that FRP is the optimal online record pool, always pushing the limit and never being comfortable with what others are doing. Keep you eyes on Franchise Record Pool