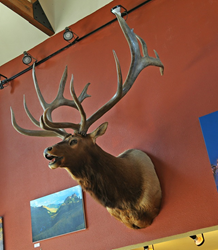 Hotchkiss, Colorado (PRWEB) August 19, 2016
The Plute Bull, formerly the World Record Typical Bull Elk as scored by Boone & Crockett and one of the most famous big game trophies ever taken, is being offered in an online-only auction. In 1899, coal miner John Plute rode into the mountains surrounding Crested Butte, Colorado, and went hunting. In that era, there were still no game laws in effect in Colorado, and game herds were dwindling, as mining towns dotted the high country terrain and meat was needed.
In his thirties at the time, John Plute was an immigrant from Slovenia and lived in a boarding house above the Elk Saloon, a bar owned by John Rozick in Crested Butte. Plute helped pay his room & board by supplying the boarding house with meat. One autumn afternoon he returned with packhorses loaded with elk meat, and told the boys at the bar that he had shot a really big one. No one believed him, so he rode back into the high country and packed out the antlers that he had left behind. He told his friends that he had shot the elk in Dark Canyon, a rugged, narrow canyon below Horse Ranch Park and Anthracite Basin north and west of Crested Butte. History was made.
Plute was a bachelor, and years later he was riding home from a night of partying at the ranch which is now the ski lift base area at Mount Crested Butte. He was riding a rank horse that pitched him into a pile of rocks, and he was found the next morning with a bad head injury. He died two days later with no heirs. The antlers became the possession of John Rozick, the owner of the boarding house and saloon, who passed the antlers on to his step-son, Ed Rozman, who was coincidentally born just after John Plute died in 1922.
In the 1960's, a friend encouraged Rozman to have the antlers measured, and sure enough, they became the new World Record American Elk (Wapiti), and held that place in the record books for over 40 years. The trophy has been in the possession of the Rozick-Rozman family the entire time since John Plute's death, though Ed has allowed it to be displayed in various places. Bid Now!
The trophy currently hangs at the Crested Butte Visitor's Center, where they provide safekeeping and pay Ed $100 a month to rent it as a tourist attraction. The trophy is indeed massive: 7 points on one side and 8 on the other, with a gross score of 459 7/8″ and a net score of 442 3/8″ after deductions. The antlers are beautifully symmetrical, with the brow tines an astonishing 20 5/8″ long and massively thick. The trophy lost its status in the 1990's as the #1 typical elk when a set of antlers from Arizona scored a quarter inch bigger. Not only is the shoulder elk mount a tremendous big game trophy, it has a historical provenance like few other items. It is a reminder of the glory days of western mining, the vast herds of big game that once populated the Rocky Mountains, and a time when a hunter didn't even bother to pack out a set of massive antlers because the meat was more important.
As Ed Rozman celebrates his 94th birthday, his thoughts turn to his only son, Roger, who is his caregiver. Roger also filled that role for his mother and Ed's wife, June, who suffered from cancer for several years before she passed away. Ed realizes the trophy antlers are valuable. "It's time to let it go," he says, hoping that the proceeds will provide something of an adequate retirement for Roger.
The auction is being organized by Gary Hubbell of United Country Colorado Brokers & Auctioneers in Hotchkiss, Colorado. "It's been a great experience working with Ed and Roger," Hubbell says. "I've learned some incredible history of the Colorado mining era from them. We're hoping that the new buyer of the trophy sees fit to display it publicly so that people can continue to enjoy it."
Other turn-of-the-century antiques & collectibles from the Rozman's bar in Crested Butte are offered at auction as well, including an 1899-era McDonald Manufacturing Company King Bee nickel slot machine; 1899-era Denver Sporting Goods Company roulette table; 1898-era Crown Cork & Seal soda bottling machine (recognized by the American Society of Mechanical Engineers as one of the most important innovations of the 20th century, very few are known to exist); bone gambling chips in their original wrappers; 1892-era National cash register; WWII U.S. Navy gas mask & WWII U.S. Army field telephones and more. Go to http://www.TrophyElkAndAuction.com for more information and photos.
# # #
For additional information contact:
Gary Hubbell, United Country Colorado Brokers & Auctioneers
(970) 872-3322
grandviewranch(at)gmail(dot)com
http://www.uccoloradobrokers.com