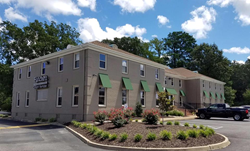 Our Virginia Beach showroom is now open!
Virginia Beach, VA (PRWEB) August 31, 2016
With over 50 years of experience in home remodeling, Hatchett Design Remodel has renovated thousands of homes throughout Hampton Roads. Hatchett's home office and showroom is located in Newport News, but with an ever-growing customer base, the Hatchetts decided to open a second showroom in Virginia Beach to better serve their customers who reside on the Southside of Hampton Roads. According to Meghan Hatchett, Remodeling Consultant, "We've been planning to open a showroom in Virginia Beach for quite some time. It took over a year to find the right building - one that had the right bones for a showroom and that was centrally located for our Southside customers."
Designer Jessica Altman was tasked with designing the space. She explains, "As I developed the layout and chose materials, my goal was to make sure we showcased as much variety as possible in one space." The new Virginia Beach showroom features one full bath display, four full kitchen displays, and four bathroom vignettes. Each display showcases different materials, color schemes and design styles including traditional, transitional and contemporary. Visitors can also get a feel for different kitchen configurations - there's an "L" shaped kitchen with an island, a "U" shaped kitchen, and a galley kitchen. Hatchett's new Virginia Beach showroom also houses hundreds of samples including cabinetry, countertops, tile, flooring, fixtures and hardware that allow homeowners to both see and touch the materials before making their final selections. Materials range from value products to special order and custom items. This showroom also offers a convenient location for Southside residents to meet with Hatchett's designers.
While Hatchett's team continued to remodel kitchens, bathrooms and additions for homeowners throughout Hampton Roads, they also worked diligently to completely renovate their new Southside showroom. Meghan adds, "We are very proud of how it turned out, and we're excited that our Virginia Beach showroom is now open."
Hatchett Design Remodel's new showroom in Virginia Beach is located at 520 S. Independence Boulevard and is open from 10am to 5pm Monday through Friday.
About Hatchett Design Remodel
Hatchett Design Remodel was founded in 1960 with a vision to provide exceptional construction services to Southeastern Virginia. Originally a siding and roofing company, Hatchett has evolved into a full service Design-Build Firm providing Kitchen Remodeling, Bath Remodeling, Additions and Sunroom services from the design process through construction for homeowners in the Hampton Roads area.