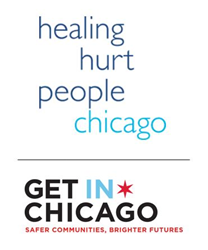 Chicago (PRWEB) August 19, 2016
Get IN Chicago announced today it will continue to fund for two additional years the Healing Hurt People-Chicago (HHP-C) program, a trauma-informed hospital-based violence intervention program that recognizes that individuals traumatized by violent injury are among those at highest risk for re-injury as well as violent perpetration.
Additional funding was awarded based on program analyses demonstrating the substantial benefits for participants. For example, data collected from youth who received HHP-C services for at least six months as of May 31, 2016, and reports from the program's Trauma Intervention Specialist showed the following results:

84% of participants experienced decreases in PTSD symptoms
89% exhibited increased self-efficacy
80% engaged in less aggressive behavior
8% of youth were reinjured, none seriously
"Level 1 Trauma Centers are at the frontline of violence and so uniquely positioned to treat and support acutely high-risk youth. After a violent injury, there is a moment of opportunity to address the psychological trauma that can drive the cycle of violence, and to provide ongoing services that young people need to reduce high-risk behaviors, stay safe and create brighter futures for themselves," said Toni Irving, Executive Director at Get IN Chicago.
Operating at the University of Chicago Medicine Comer Children's Hospital and The John H. Stroger Jr. Hospital of Cook County, the HHP-C team attempts to meet every violently injured patient under the age of 19 in order to:

Provide trauma-focused support and psychoeducation services as early as possible following violent injury;
Assess safety and identify other basic needs; and
Offer patients the opportunity to participate in ongoing services, which include Assessment, Intensive Case Management, and Psychoeducation Groups.
Prior to the establishment of HHP-C, violently injured trauma patients in Chicago were treated for their medical injuries and discharged without any services for psychological trauma recovery and little, if any, follow-up support. Since Get IN Chicago funding began in April 2015, HHP-C has provided initial support and psychoeducation services to more than 240 high-risk patients who have been exposed to or injured by community violence.
The need for HHP-C services continues to grow as more young people are injured and Chicago remains the leader in the sheer volume of killings and shootings. The program currently receives referrals for over 30 youth each month, with even greater numbers during the summer. The additional funding provided by Get IN Chicago will be used to expand and scale HHP-C's service capacity in order to reach even more acutely high-risk youth.
Affiliated with the Drexel University's Center for Nonviolence and Social Justice, HHP first began serving adult Level 1 trauma patients at Philadelphia's Hahnemann Hospital in 2008 and expanded to serve pediatric patients of St. Christopher's Hospital for Children in 2009. In the last year, HHP has been replicated at three additional trauma centers in Philadelphia. HHP-C is the second replication of HHP outside of Philadelphia.
###
About Get IN Chicago
Get IN Chicago (GIC) provides counsel to funder and community-based organizations working to reduce youth violence and address the underlying, systemic issues that lead to youth violence. Get IN Chicago also studies and funds antiviolence initiatives focused on acutely high-risk youth, those who are at heightened risk for becoming victims or perpetrators of violence. To date, Get IN Chicago has awarded more than $29 million to support work across the city.
About Healing Hurt People
Healing Hurt People (HHP) is the cornerstone program of the Center for Nonviolence and Social Justice at the Drexel University School of Public Health in Philadelphia. HHP is a trauma-informed, community-focused, hospital-based program designed to reduce re-injury and retaliation among young people ages 8-30. For the last nine years, HHP has been developed and refined by pioneers in the fields of Emergency Medicine, Trauma Psychiatry, and Public Health.