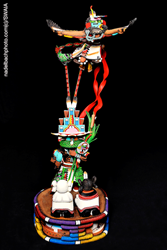 "I want to extend my congratulations to the 2016 Best of Show winners. It's exciting to see how Indian Market keeps evolving to attract established and new artists from over 230 tribes." —Dallin Maybee, SWAIA chief operating officer
Santa Fe, New Mexico (PRWEB) August 20, 2016
Santa Fe Indian Market is pleased to announce this year's Best of Show, Best of Class, and special award winners in a variety of classifications. For 95 years, Santa Fe Indian Market, the world's largest and most prestigious Indian art market, has awarded Best of Show winners to the nation's most exceptional artists in a variety of juried categories.
Over 40 judges, experts in various mediums, spent all day Thursday, August 18, reviewing and critiquing this year's entries and determining the winners. The announcement of the Best of Show, Best of Class, and Special Award winners was made publicly at the Best of Show Luncheon on Friday afternoon.
This year's overall Best of Show winner is Adrian Nasafotie (Hopi), for his woodcarving entitled Purification. The Dobkin Family Foundation generously underwrites the 2016 Best of Show Award of $10,000.
All of the Best of Show winners' phenomenal artwork will be available this weekend during Santa Fe Indian Market on the Plaza in downtown Santa Fe.
This year's Best of Class winners by classification are:
Class I:  Jewelry
Benson Manygoats (Navajo)
Class II: Pottery
Al Qöyawayma (Hopi)
Class III: Painting, Drawing, Graphics & Photography
Jason Garcia (Santa Clara Pueblo)
Class IV: Wooden Pueblo Figurative Carving & Sculpture (Best of Show)
Adrian Nasafotie (Hopi)
Class V: Sculpture
Ed Natiya (Navajo)
Class VI:  Textiles
Berdina Charley (Navajo)
Class VII: Diverse Arts
Leonard Gene (Navajo)
Class VIII: Beadwork & Quillwork
Joyce and Juanita Growing Thunder Fogarty (Assiniboine/Sioux)
Class IX: Youth (artists aged 17 and under)
Nicklaus Stanaland (Navajo)
Class X: Moving Images
Jordan Dresser (Northern Arapaho), Julianna Brannum (Comanche), Mat Hames
What Was Ours
Class XI: Basketry
Kelly Church (Odawa/Ojibwe)
2016 Special Award Winners:
Bernard Ewell Innovation Award
Carla Hemlock (Mohawk)
First National Bank of Santa Fe Youth Award
Quahada Burgess (Comanche)
AARP Tradition Award
Jamie Okuma (Shoshone Bannock/Luiseno)
Helen Naha Memorial Award for Hopi Pottery
Deborah Clashin (Hopi)
Western Art Collector Magazine Editor's Choice Award for Excellence
Upton Ethelbah Jr. (Santa Clara Pueblo/White Mountain Apache)
Native American Art Magazine Editor's Choice Award for Excellence
Jackie Bread (Blackfeet)
"Santa Fe Indian Market juried over 1,000 incredibly talented and diverse Native artists to participate in this year's market," said Dallin Maybee, SWAIA chief operating officer. "I want to extend my congratulations to the 2016 Best of Show winners. It's exciting to see how Indian Market keeps evolving to attract established and new artists from over 230 tribes."
For media inquiries, contact:
Audrey Nadia Rubinstein
505 490 5029
audrey(at)jlhmedia(dot)com
###
About SWAIA:
The Southwestern Association for Indian Arts (SWAIA) is a non-profit organization supporting Native American arts and culture. It creates economic and cultural opportunities for Native American artists by producing and promoting the Santa Fe Indian Market, the biggest and most prestigious Indian art event in the world since 1922; cultivating excellence and innovation across traditional and non-traditional art forms; and developing programs and events that support, promote, and honor Native artists year-round. swaia.org