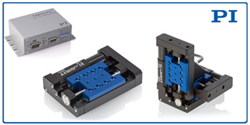 Auburn, MA (PRWEB) August 18, 2016
PI (Physik Instrumente), a top provider of precision motion control and positioning solutions for more than 4 decades, has released a low-profile motorized positioning stage – the M-122 – with a very small footprint of 60x86mm and a travel range of 25mm, best suiting it for research and industrial applications including fiber alignment, metrology, quality assurance testing, photonics packaging, test equipment, and micromachining.
Closed-Loop Position Control, Optical Linear Encoder, 100 Nanometers Resolution
The compact closed-loop positioning stage can handle payloads to 11 lbs, with velocity to 20mm/sec. The optical linear encoder provides 100 nanometers resolution and better linearity and repeatability compared to rotary encoder or stepper motor equipped positioners. Long service life and excellent guiding accuracy with minimal backlash are guaranteed by the preloaded ball-screw drive and precision crossed roller bearings with anti-creep cage assist.
XY and XYZ Combinations, Affordable Packages
M-122 stages can be combined to create very compact XY and XYZ systems. Combined with the networkable low-cost C-863 Mercury servo motor controller, M-122 stages offer high performance at a competitive price.
Specifications, Datasheet, More Information >
Standard and Custom
PI provides in-house engineered solutions with over 4 decades of experience delivering products that exceed expectations and application demands of our customers. PI can quickly modify existing product designs or provide a fully customized OEM part to fit the exact requirements of the application.