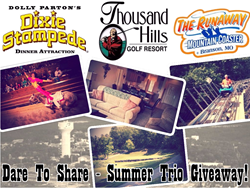 One winner will receive a $1000 Branson vacation including lodging, food, shows & attractions.
Branson, MO (PRWEB) August 18, 2016
Branson, Missouri has been a Midwest vacation destination for more than 50 years and now travelers have been given a chance to win a free dream vacation with the "Dare to Share –Summer Trio" Branson vacation sweepstakes. Thousand Hills Golf Resort, one of the leading area lodging providers, is pleased to announce their partnership with the leading & newest attractions in Branson to provide a Grand Prize dream vacation to one lucky sweepstakes winner. Guests can begin entering today at thousandhills.com/dare-share-summer-trio-giveaway/. The sweepstakes will continue collecting entries through August 31st, 2016 and the lucky winner will be contacted shortly after.
The grand prize consists of two nights at Thousand Hills Golf Resort where the winners will stay in a completely furnished luxury two bedroom condo, 4 rounds of golf (cart included) at the award winning Thousand Hills Golf Course, 4 tickets to Dolly Parton's Dixie Stampede and 4 tickets to ride the all new Runaway Mountain Coaster at Branson Mountain Adventure Park. Total prize package is worth $1000 to one lucky winner.
Thousand Hills Resort condos are located around the award winning 18 hole public golf course in the heart of Branson, Missouri. With this fantastic location guests will be minutes from every show, shop, restaurant and attraction in town. All condos are fully furnished with all the comforts of home to make for an ideal vacation stop. Thousand Hills Golf Course has emphasized golfer satisfaction and features immaculately kept greens and a top notch pro shop staff for a refreshing golfing experience.
Dolly Parton's Dixie Stampede is billed as "Branson's Most Fun Place to Eat" for good reason—the four course meals served are delicious and satisfying. While eating, diners are also treated to a one of a kind show in the center ring featuring horses, buffalo, comedy, trick riding, dancing, singing & much more.
The Runaway at Branson Mountain Adventure Park just opened their doors in Branson and already have become one of the most talked about attractions in town. The Runaway is the first mountain coaster in the state of Missouri, using the natural terrain and beauty of the Ozarks to provide a unique thrill ride experience. With nearly a mile of track up & down and their own speed control visitors get to decide just how thrilling they want the coaster experience to be. From a leisurely scenic trip down to a fast paced ride around curves, hills and two 360 degree helixes riders of all ages will leave entertained.
Sweepstakes entries must be received by August 31st to have a chance to win this Dream Vacation in Branson. Thousand Hills and all their partners are encouraging their fans to take advantage of this incredible opportunity before time runs out. Entries and official rules can be found online at thousandhills.com/dare-share-summer-trio-giveaway/
Thousand Hills Golf Resort is a golf course and nightly lodging resort located in Branson, Missouri. For over 20 years, this locally owned resort has been providing affordable luxury lodging for vacationers in Branson. The staff of Thousand Hills prides itself on offering the best value for lakefront condos, golf condos, townhomes, cabin rentals and everything a vacationing family will need for their stay.