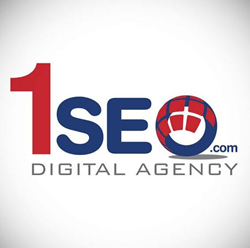 Bristol, Pennsylvania (PRWEB) August 19, 2016
1SEO.com Digital Agency, a digital marketing firm that provides industry-leading end-to-end solutions for their clients, including SEO, web design, PPC, social media optimization, and content and email marketing, is pleased to announce their ranking on the Inc. 5000 list of fastest-growing private companies in America for a third straight year.
Located in historic Bristol, PA, 1SEO.com Digital Agency landed on the 35th annual edition of this distinguished list due to their 58% growth over the past three years. They attribute this success to their client-first focus and dedication toward fostering a winning company culture.
"Changing the lives of our clients while changing the lives of our employees is our greatest source of accomplishment," Founder and CEO Lance Bachmann stated.
The honorees of this list will be acknowledged at the Inc. 5000 Conference & Gala in San Antonio, TX from Oct. 18-20. Keynote speakers include New York Times best-selling author, entrepreneur and life strategist Tony Robbins and Marvell Technology Group co-founder and director Weili Dai. Vice President of Operations CJ Bachmann and Senior Project Manager Ben Bechtel will attend the event on behalf of 1SEO.com Digital Agency.
"It is a privilege to be recognized once again," said CJ Bachmann. "We are honored to be acknowledged for our company's continued growth," she added.
1SEO.com Digital Agency recently achieved Premier Google Partner status because of their mutually beneficial relationship with the search engine giant. In fact, the two companies will be holding an exclusive event at the 1SEO.com Digital Agency Bristol, PA office on Wednesday, Sept. 14 about the evolving digital marketing landscape.
To find out more information about 1SEO.com Digital Agency and the solutions they provide, visit them online.
About 1SEO.com Digital Agency
1SEO.com Digital Agency is a Philadelphia, PA-based digital marketing firm that provides end-to-end solutions for their clientele, which is comprised of hundreds of businesses in countless industries that operate in several sectors, from the niche to the mainstream. Using a full suite of services like search engine optimization (SEO), pay per click (PPC), social media optimization (SMO), website design, content writing and email marketing, 1SEO.com Digital Agency helps their clients win online by cultivating online presences and harvesting leads, closes, conversions and profits.
To learn more, please visit http://www.1seo.com/.