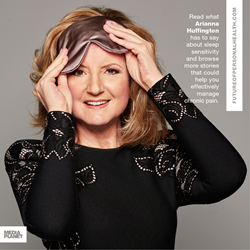 New York, NY (PRWEB) August 19, 2016
Thanks to key industry leaders, including the American Chronic Pain Association, the International Pain Foundation, American Pain Society and Performance Health, the campaign illuminates the hardships of the millions of Americans suffering from chronic ailments of pain. In addition, the campaign seeks to draw the clear line between sleep and our overall health and well-being.
An estimated 60 million Americans suffer from sleep disorders or deprivation. While feeling drowsy after a night of tossing and turning is tough, the impact chronic insufficient sleep has on our overall well-being is much greater. The latest figure projects seven or more hours of sleep per night are essential to optimal health. Yet millions of people do not get enough sleep and many suffer from a sufficient lack of sleep.
The print component of "Pain & Sleep Sensitivity" is distributed within today's edition of USA Today in New York, Los Angeles, Washington DC/Baltimore and Dallas, with a circulation of approximately 250,000 copies and an estimated readership of 750,000. The digital component is distributed nationally, through a vast social media strategy, and across a network of top news sites and partner outlets. To explore the digital version of the campaign,click here.
Co-founder and editor in chief of The Huffington Post, Arianna Huffington, graces the cover of the print publication. Through an exclusive interview on the interior, the media mogul opens up about her own wakeup call, and how making sleep a top priority has since changed her life. Huffington, who describes her former self as "sleep-deprived, drained and depleted," explains: "Something had to radically change. I could not go on that way. Now, 95 percent of the time, I get eight hours of sleep a night. Once I started giving sleep the respect it deserves, my life improved in pretty much every way." The sleep evangelist continues on to advise that if we're going to truly thrive in life, we must begin with sleep.
This campaign was made possible with the support of The American Academy of Sleep Medicine, The American Chronic Pain Association, The Better Sleep Council, International Pain Foundation, The Sleep Doctor: Dr. Michael Breus, CertiPUR-US, Mute, Biofreeze, REM-Fit, BedInABox and Emfit.
About Mediaplanet
Mediaplanet is the leading independent publisher of content-marketing campaigns covering a variety of topics and industries. We turn consumer interest into action by providing readers with motivational editorial, pairing it with relevant advertisers and distributing it within top newspapers and online platforms around the world.