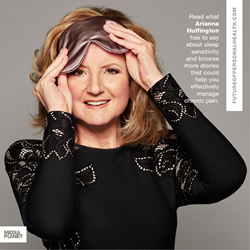 Before bringing a new mattress home today, consumers today are rightly looking beyond its price tag for peace of mind.
New York, NY (PRWEB) August 19, 2016
To provide more readers with peace of mind, Mediaplanet announces the newest cross-platform edition of: "Pain & Sleep Sensitivity." Distributed within today's edition of USA Today in New York, Los Angeles, Washington DC/Baltimore and Dallas, with a circulation of approximately 250,000 copies and an estimated readership of 750,000, the campaign informs and empowers readers to find a higher level of comfort and well-being. It comes courtesy of partnering sleep experts, and leading brands like BedInABox.
When it comes to getting a good night's sleep, BedInABox does not believe that one mattress fits all. Before bringing a new mattress home today, consumers today are rightly looking beyond its price tag for peace of mind. That's why the online mattress retailer offers a selection of mattresses to satisfy most sleep needs and preferences. Based on customer feedback, 99 percent of customers say they toss and turn less, and sleep better, on a BedInABox.com mattress.
"BedInABox takes the health and well-being of customers very seriously. By subjecting our products to extensive testing in independent labs, we make sure we are offering the best products possible," says Bill Bradley, CEO and owner of BedInABox.com. BedInABox.com was one of the first companies to have its products tested and certified by CertiPUR-US®, the most rigorous and comprehensive certification for polyurethane foams. BedInABox.com has also been awarded Hohenstein's Skin Friendly quality label for its CoolRest Gel® memory foam mattresses, which have been extensively tested to confirm that they do not harm skin cells.
People spend close to one-third of each day on their mattress. Taking the time to find just the right one can really pay off. Although it may seem like a daunting chore, mattress shopping should really be viewed as an investment in the deep, restful sleep you need to look and feel your best. "We believe in our products so much that we offer a 120-night no-risk guarantee," says Susan Chase, executive director. "If a customer doesn't like the mattress, they can return it for a full refund."
About BedInABox:
BedinABox®.com is a U.S. manufacturer and internet retailer of high quality, technologically advanced memory foam mattresses designed to relieve pressure points and provide deep, comfortable sleep at an affordable price. BedInABox.com was the original company to sell superior memory foam mattresses online, compress them, box them and deliver them straight to the customer's door. The company sold its first mattress online in 2007, launching a shift in the bedding industry. BedInABox.com sells only mattresses and foundations made in the United States and carries the Made in the USA Certified® designation.
About Mediaplanet:
Mediaplanet is the leading independent publisher of content-marketing campaigns covering a variety of topics and industries. We turn consumer interest into action by providing readers with motivational editorial, pairing it with relevant advertisers and distributing it within top newspapers and online platforms around the world.