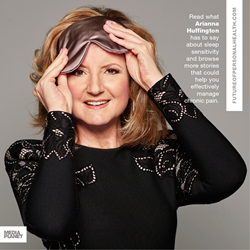 millions of Americans suffering from chronic ailments of pain
New York, NY (PRWEB) August 19, 2016
The campaign illuminates the hardships of the millions of Americans suffering from chronic ailments of pain. In addition the campaign seeks to draw the clear line between sleep and our overall health and well-being.
The print component of "Pain & Sleep Sensitivity" is distributed within this weekend's edition of USA Today in New York, Los Angeles, Washington DC/Baltimore and Dallas, with a circulation of approximately 250,000 copies and an estimated readership of 750,000. The digital component is distributed nationally, through a vast social media strategy, and across a network of top news sites and partner outlets. To explore the digital version of the campaign, click here.
This campaign was made possible with the support of industry experts and thought leaders, particularly Biofreeze. Biofreeze was first introduced to the world by a medical professional who was searching for a way to help his grandmother manage her arthritis pain and the resulting formula offered quick, effective pain relief without the use of prescription drugs.
Part of the Performance Health® family of brands and the number one clinically recommended brand, Biofreeze is proud to announce the launch of its professional finder. A unique matching service that makes it easy to locate a hands-on health professional tailored to your pain relief and wellness needs. Specialized health care professionals can help you expand your pain relief, performance and recovery. Biofreeze offers both a guided search to find the right match and a fast search option. To learn more visit http://www.biofreeze.com/professional-finder
About Performance Health
Headquartered in Akron, Ohio, Performance Health is a global consumer branded health, wellness and self-care company. The Performance Health brands include Biofreeze®, TheraBand®, Cramer®, Bon Vital'®, and Thera°Pearl®, featuring a complementary product offering helping practitioners and patients relieve pain, accelerate recovery, grow stronger, improve performance and enhance quality of life for nearly 100 years.
About Mediaplanet
Mediaplanet is the leading independent publisher of content-marketing campaigns covering a variety of topics and industries. We turn consumer interest into action by providing readers with motivational editorial, pairing it with relevant advertisers and distributing it within top newspapers and online platforms around the world.