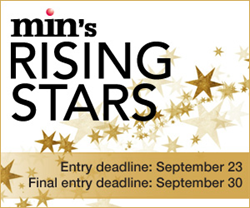 New York, NY (PRWEB) August 19, 2016
min is accepting entries for its annual Rising Stars Awards, a program that recognizes up-and-comers in the media industry, until September 23, 2016.
This prestigious program casts a spotlight on the innovative strategies and business initiatives led by individuals in magazine media under the age of 30. Last year, min honored 20 young professionals from companies such as Bloomberg Media, CBS, Entertainment Weekly, Forbes, InStyle, Time Inc. and Time Out.
For more information, visit min's website: http://www.minonline.com/award/mins-rising-star-awards/. Young professionals may enter themselves for consideration, or bosses, mentors and colleagues may enter on their behalf.
Finalists of min's Rising Stars Awards will be notified in late November, and winners will be acknowledged at an awards ceremony in New York City on December 8.
Questions related to min's Rising Stars Awards or the entry process may be directed toward Zoe Silverman at zsilverman@accessintel.com or 301-354-1662.
About min:
min is the industry's trusted source on the consumer and b2b magazine business, reaching thousands of media executives through print, online and in-person events. For more than 60 years, min has been serving the magazine and media community with unparalleled coverage of this ever-changing industry. For more information, visit http://www.minonline.com.