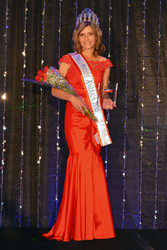 "We should be able to look at one another and focus on how much we are alike and not on how we are different."
BIRMINGHAM, AL (PRWEB) August 23, 2016
Rev. Dallas Teague Snider of Birmingham was crowned Mrs. Petite America 2016 on August 6, 2016, at the international Petite America and Petite World Pageant in Hartford, Conn. As Mrs. Petite America 2016, Snider will embark on introducing and executing her mission and platform #Think LOVE First! ®, a web based multi-cultural and faith initiative.
Snider said she chose this platform to combat the increased frequency of hate crimes, civil disobedience and terrorist acts occurring across the country and the world.
"I was inspired to create and launch Think LOVE First! ® with a vision to usher in a culture of respect for our differences and an awareness of our common traits as human beings," Snider said. "We should be able to look at one another and focus on how much we are alike and not on how we are different."
As a professional speaker and author of Finding Dallas, A Spiritual Journey Through Childhood Abuse to the Glory of God's Plan, 2nd Edition, Dallas shares her personal testimony of overcoming adversity and PTSD, which inspired her #ThinkLoveFirst platform. To schedule a media interview, speaking engagement or for more information, please visit http://www.thinklovefirst.com
###
ABOUT DALLAS TEAGUE SNIDER
Rev. Dallas Teague Snider, Mrs. Alabama Petite America and now Mrs. Petite America 2016, is an author, speaker, media personality and spiritual life coach. As the founder and visionary behind the movement Think LOVE First! it's her hope that each heart that chooses to #thinklovefirst.com will counteract the negativity, disrespect, and darkness that has taken center stage in today's world.
Think LOVE First! is an initiative for the nonprofit organization Purpose Without Limits, which offers personal and professional coaching, prayer ministry, and retreats. For more information, visit http://www.thinklovefirst.com.