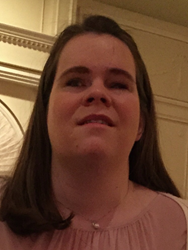 "The College Success Program is effective because students are able to connect with a person who has been there and done it."
Princeton, NJ (PRWEB) August 25, 2016
Students entering college and institutions of higher education face many challenges, like being away from home for the first time, navigating through an unfamiliar school and city, and especially dealing with a new academic workload. Starting out on the college journey can be daunting at times for any student -- and for those who are blind or visually impaired, it can impose monumental difficulties.
According to the National Federation of the Blind, of the 1.3 million legally blind individuals in the U.S., only 29 percent go to college, while only 12 percent earn a Bachelor's Degree or higher. While the Americans with Disabilities Act requires institutions and educators to offer accommodations to blind students, these statistics suggest that accommodations alone are not adequate in helping these students succeed in their college experience.
With these challenges in mind, Learning Ally, a national nonprofit organization serving students and individuals with learning and visual disabilities, has announced the launch of its College Success Program, designed specifically for students attending institutions of higher education who are blind or visually impaired. The program comes at no cost to enrolled students, through the generosity of foundations and private donors.
Based on extensive research designed to support students with visual disabilities in school, Learning Ally has developed its College Success Program Core Curriculum, providing specialized resources for self-advocacy, academic achievement and a well-rounded college experience necessary for success on and beyond campus.
Components of the Learning Ally College Success Program's Core Curriculum for enrolled students include:

Communicating with your Professors
Discovering Technology
Learning Effectively
Making Connections (campus life and activities)
Partnering with the Disabilities Services Office
Additionally, the College Success Program provides peer mentors for enrolled students. These specially trained College Success Mentors are blind themselves, and have succeeded in college and beyond. Now, they are giving back, serving as advisers to currently enrolled students as they navigate the college journey and learn to advocate for themselves.
The College Success Program mentors have a wealth of experience and knowledge, having gone on from college to achieve remarkable goals, such as: teaching music, travelling the world, working with the famous Coppola vineyards while running a camp for blind students, and even finishing the Boston Marathon. The College Success mentors rise to the challenge of their disabilities by living their lives to the fullest and by sharing their experiences and strengths in order to help others.
"For some of our students, their mentors are the first successful blind people that they've met," says Abigail Lanier, Learning Ally College Success Program Mentor Coordinator, who is visually impaired. "The College Success Program is effective because students are able to connect with a person who has been there and done it."
Mary Alexander, Learning Ally's National Director of Initiatives for the Blind, describes the CSP mentors as articulate, intelligent and compassionate individuals who are not defined by their vision impairment. "They want to give back by helping students who face similar challenges," she says. "We believe that with their guidance and our research based curriculum, students who are blind or visually impaired can join a supportive community that leads to success."
"A caring peer who believes that 'I can do it' is magic for many young people who are blind," agrees Andrew Fisher, President of The Lavelle Fund for the Blind, one of the chief funders of the program since its inception. "Part of the magic of the College Success Program is the mentorship component where a student recognizes, 'Oh, someone just like me has been this brilliant success.' There is no reason why persons who are blind cannot both have and achieve the American dream."
ABOUT LEARNING ALLY
Founded in 1948, Learning Ally, a national nonprofit organization, supports K-12, college and graduate students, veterans and lifelong learners – all of whom read and learn differently due to dyslexia, blindness or visual impairment, and other disabilities. Through its extensive community events and support programs, Learning Ally enables parents, teachers and specialists to help students thrive and succeed. The organization hosts live and virtual events for families and teachers; provides instructive webinars led by experts as well as peer-to-peer sessions led by students; and professional development workshops for educators. Learning Ally's collection of 82,000 human-narrated audio textbooks and literature titles can be downloaded by students using their smartphones and tablets, and is the largest of its kind in the world. As a 501(c)3 nonprofit, Learning Ally is partially funded by grants from state and local education programs, and the generous contributions of individuals, foundations and corporations. For more information, visit LearningAlly.org.